Bender nosebleed forces kitman to raid BVB shop for jersey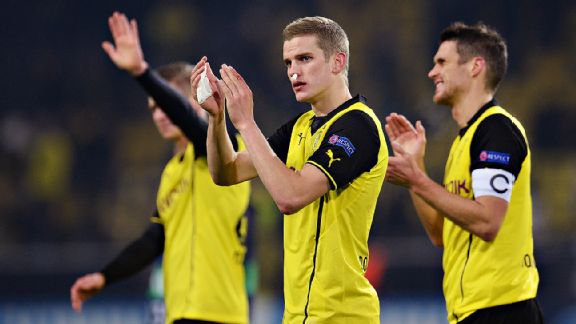 Patrik Stollarz/AFP/Getty ImagesSven Bender's bloody nose forced many a jersey change in Dortmund's win over Napoli.
Given that most of Dortmund's backline are out injured at the moment, there was precious little chance of Juergen Klopp allowing makeshift centre-back Sven Bender to be subbed off after breaking his nose against Napoli last night.

Instead, the midfielder had his nostrils plugged with cotton buds and sent back out into the fray, though the wads stuffed up his nose did little to stem the torrent of blood that continued to leak forth.

Being as players aren't allowed to play in blood-stained shirts these days on health and safety grounds, Bender was forced into swapping his jersey not once, not twice but three times -- going through his reserve of spare match-day shirts in quick succession.

Still the bleeding showed no sign of relenting, leaving the Dortmund kitman facing a bit of a quandary as, after three costume changes, there were now no fresh jerseys left for Bender to change into.

With that, the kitman was forced to run around the ground and out to the club shop at the Westfalenstadion in order to acquire a replica 'Bender #6' Dortmund shirt, which he duly rushed back to the dugout to give to the player himself.

Asked about the blood-based furore at his post-match press conference, Klopp then confirmed that Bender played the final portion of the match wearing club merchandise:

"It was important that [Bender] stayed on because of his performance. It was a great game for him and we had to change his bloodied shirt several times. The last one we got from the club shop."

Bloody nightmare...quite literally!