Boreham Wood accused of dressing room mayhem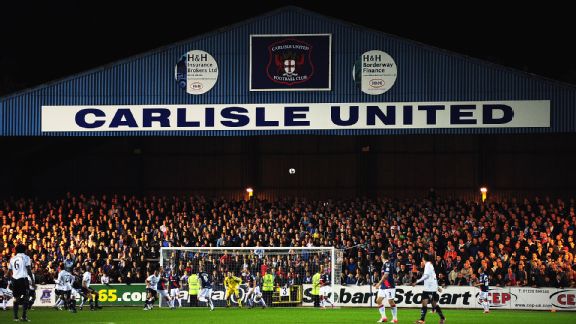 Stu Forster/Getty ImagesBrunton Park: Home of Carlisle United.
On Tuesday night nonleague Boreham Wood traveled to Carlisle United for a replay of their FA Cup first-round tie after the original fixture the previous week ended goalless.

The replay ended in heartbreak for Boreham Wood, who were about to take their League One opposition (a full 74 league places separated the two clubs at kickoff) to extra time with the scores locked at 1-1 and the clock ticking over into the very last minute of stoppage time.

Sadly for the Conference South outfit, it was at this point that Carlisle substitute Mark Beck popped up to score a last-gasp 94th-minute winner for the Cumbrians and duly curtail Boreham Wood's FA Cup dreams for another year.

According to Carlisle, their opponents then retreated to the 'away' dressing room at Brunton Park and took out their anger and frustration on the equipment. The home side accused the guests of having urinated on the floor, kicking a hole in the door and -- in a crime almost unimaginably callous -- leaving a tea kettle wedged in one of their urinals.

Carlisle then released photos of the damage to a local newspaper, the News and Star, to back up their story and prove the extent of the vandalism.

Upon being confronted with the allegations, Boreham Wood issued a long statement on their official club website in which they called Carlisle's accusations "laughable" and "a complete non-story" before counter-claiming that the damage shown in the photos was merely a result of Carlisle's facilities being "old", "shabby" and "dirty" as a result of a "lack of investment".

Boreham Wood chairman then contacted the Cumbrian News and Star to inform them that he also plans to launch legal action against Carlisle if they don't apologise for their conduct:

"Unless we get a full retraction, I'm going legal over this," Hunter said. "I've contacted my solicitors. They [Carlisle] will either retract it in full or it's a lawsuit. What has been said is just not true."

In the club's aforementioned statement, Boreham Wood also debunked the suggestion that the yellow liquid seen pooling on the tiled floor at Brunton Park is not urine but is, in fact, nothing more than orange juice -- a plastic bottle of which was sent flying when the club's left-back, Mark Jones, angrily entered the room after the final whistle and booted it against the wall.

The FA themselves have confirmed that they've been made aware of the incident at the end of the game and that an inquiry into it has been launched.

Meanwhile, we should all spare a thought for the real victims to emerge from all of this sorry nonsense: Carlisle's poor, innocent youth team, who were tasked with cleaning up all the "not very nice" mess as part of their regular post-match duties.

Yeesh.