Ugandan Arsenal fan loses house after betting on Man Utd defeat - report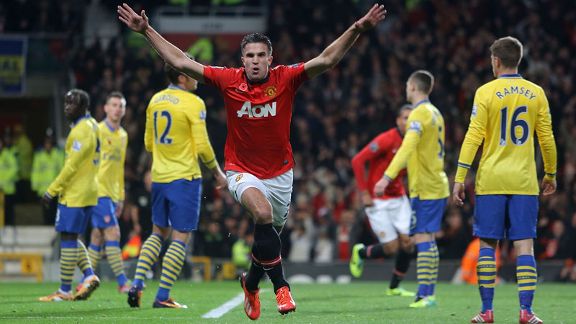 GettyImagesRobin van Persie wheels away in delight after scoring Manchester United's winning goal against former club Arsenal.
Many, many Arsenal fans out there are probably still reeling from last Sunday's defeat to Manchester United, but all jilted Gooners should stop and spare a thought for Ugandan fan Henry Dhabasani, who, according to reports doing the rounds in football internet circles, felt the devastation of the 1-0 loss at Old Trafford a little more keenly than most.

The Ugandan Observer claim Dhabasani was so sure that his beloved team were going to beat United on their own patch that he made an ill-judged bet with one of his United-supporting friends that saw the father-of-three stake his two-roomed house in the eastern town of Iganga on Arsenal getting a result.

In return, his friend, Rashid Yiga, staked his Toyota car and his wife (yep, his wife!) on United beating Arsenal. The duelling pair then put their wager in writing while local leaders and fans witnessed the bet being shaken on.

If the story is to be believed, Dhabasani fainted at the end of the game after realising that Arsenal had lost 1-0 to Robin van Persie's header (presumably he began feeling nauseous about the time Nicklas Bendtner started warming up to come on) and the next day several United fans who had witnessed the bet turned up at his house and threw him and his family out.

It's only fair, we suppose. There's a lesson in hubris in there somewhere.

Obviously we're not going to go putting words into our friend Henry's now-homeless mouth, but we reckon he may just knock the whole 'gambling with his entire worldly belongings' thing on the head for the foreseeable future.