Neymar politely requests obsessive fans stop calling him all night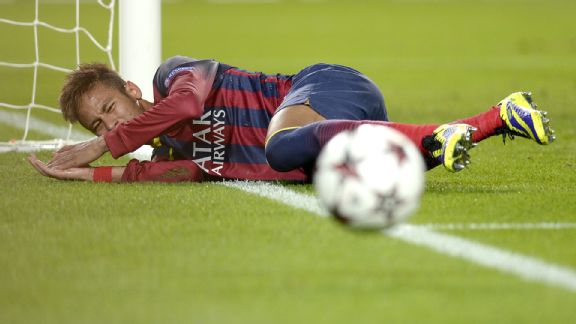 Lluis Gene/Getty ImagesBarcelona's Neymar has built quite a legion of fans over his career.
If the photographic evidence above is anything to go by, Neymar has been taking any opportunity he can to get a bit of shut-eye of late -- and it's little wonder considering that some of his more "avid" followers have been keeping him up at night.

Indeed, the Barcelona star has been forced to issue an open letter to his fans (the "Neymarzetes") via his official Instagram account, pleading with the more obsessive fringes to allow him some peace and quiet and to kindly refrain from messaging him and his family at all hours of the morning.

The note reads thus:

"I have a lot of affection for my Neymarzetes and I don't know if I would have got where I have today without them.

"I am unable to keep the same phone number for more than two weeks because people who call themselves fans –- Neymarzetes -– call me in the early hours of the morning or send me messages.

"And worse they discover the numbers of my family, girlfriend and friends and they invent stories and tell lies so that in the end they also have to change their numbers.

"I implore with all my heart that everyone who likes me and the Neymarzetes that have been with me from the start, that if they know of anyone who does not know where to draw the line, that they advise them, for the love of God, to change their behaviour. I don't know what else to do.

"I don't know what else to do! These people are causing me real problems. Please, leave me in peace."

Aw, the poor little lamb. Maybe we're oversimplifying the problem here, but we can't help but feel that Neymar's first step toward a more peaceful private life may be to simply turn off his phone at night.

Problem (partially) solved, no?