Brazil club break shirt sale records with new Che Guevara kit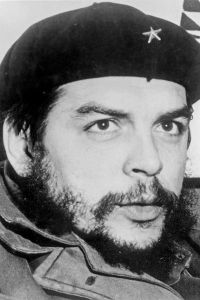 Keystone/Getty ImagesChe Guevara has been good for capitalists all over the world, including Brazil.
The face of South American-born Cuban revolutionary Che Guevara has been used to sell many things over the years, from T-shirts, posters and badges to action figures, bubble bath and baby clothes, but never before has a football club used old Ernesto's iconic bearded mush to flog their wares ... until now.

That's right, Brazilian third-division side Madureira have seen their replica shirt sales go through the roof after deciding to slap Che's face on their new kit -- seeing their club store go from selling an average of 10 shirts a month to 3,000 a month since the new strip was launched.

The goalkeeper's kit also features a large Cuban flag at the centre of its design, and Guevara's face imprinted on the right flank.

The original plan was for Madureira's seven-a-side team to wear the "Che" novelty strip for the season to mark the 50th anniversary of the club's historic tour of Cuba in 1963 when, according to club president Elias Duba, Guevara met the players at their Havana hotel and attended the last match of Madureira's five-game visit.

However, the plan quickly changed when the kit proved so popular the factory making it couldn't keep up with demand. Madureira then decided their full 11-a-side team also would wear the Che strip and, as such, the club have smashed sales records.

Duba told Reuters: "It's taken on a whole life of its own. I wasn't going to have the big team use them, but all the attention has convinced me otherwise."

Curious as to what this looks like? Well, wonder no longer.