Uruguayan GK forced to retire after slicing off four fingers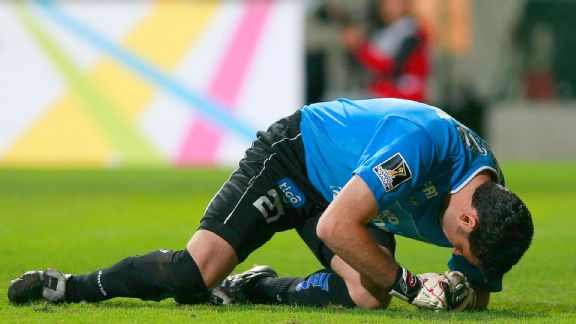 Francisco Estrada/Getty ImagesUruguayan goalkeeper Juan Obelar was forced to retire after a mishap.
Fingers are fairly important in the goalkeeping trade, so losing a few is always going to be a big deal to most stoppers -- as Uruguayan goalkeeper Juan Obelar had the misfortune of finding out recently.

Currently three months into a six-month hiatus from football since leaving Montevideo-based club Centro Atletico Fenix in the summer, Obelar was planning to make his return to the game in January.

Sadly, his plans have been forcibly nixed after, while attempting a spot of DIY at home, the former Penarol 'keeper accidentally sliced off all four fingers on his right hand.

After being rushed to the hospital, doctors had to break the news that his fingers were beyond saving and that full reconstructive surgery wasn't an option. Obelar was forced to announce his retirement shortly thereafter.

The man himself then relayed the gruesome story to a local news outlet:

"I was doing a few things for my house, putting wood through a plane and the next thing I know the machine ripped off four fingers.

"I was on my own, I didn't have help from anyone and the only digit I had left was my thumb. They [doctors] have already told me I am not going to recover a single finger but they will try to rebuild me a bit.

"I feel so awful, this is the most horrendous thing that has ever happened to me. It is a very painful moment. God knows why these things happen."