Report: Newcastle's Kinnear sought player already on Magpies' books
As he's keen to tell anyone who will listen, Newcastle's director of football Joe Kinnear is a well-connected man in the world of football, able to -- and we quote -- "open the door to any manager in the world" and "pick the phone up at any time of the day and speak to any manager in the league, in all the divisions."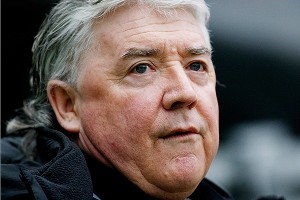 Stu Forster/Getty ImagesJoe Kinnear hasn't done anything to enhance his reputation since becoming Newcastle's director of football.
With experience, nous and contacts such as those, it's little wonder that Newcastle owner Mike Ashley wasted no time getting Kinnear back on board.

Indeed, Joe put those famously peerless credentials to good use during one of his first scouting missions for the Magpies since rejoining the club in the summer, traipsing down to St Andrew's in September to cast a knowing eye over the talent on display during Birmingham's League Cup third-round tie against Swansea.

According to a report in the Sunday People, while studiously watching the action unfold, Kinnear's attention was caught by young Birmingham midfielder Shane Ferguson. Sensing a real transfer coup, Newcastle's super scout began putting the feelers out -- even going as far as asking one of his Birmingham counterparts if the club would be willing to listen to offers for Ferguson, and at what price they'd be willing to start negotiating.

The Birmingham officials had to inform Kinnear that, alas, Ferguson was only on a season-long loan at the Blues and that he'd have to contact the 22-year-old Northern Ireland international's parent club if he wanted to pursue a transfer.

It was also at this point the news was broken to our Joe that the parent club in question was, in fact, Newcastle United.

Yep.

According to the Sunday People, a Birmingham insider relayed his baffling interaction with Kinnear to the local press:

"Ferguson had a good game the night Joe watched us. After the match was over he spoke to one of our officials and said he was interested in signing him.

"At first, our guy thought he was joking but then he realised Joe didn't know that Ferguson was already a Newcastle player."

Now, it's only fair to mention that Sky Tyne & Wear reported Monday morning that a source close to Kinnear is claiming that the gaffe at Birmingham never happened, Joe didn't talk to anybody at the club about signing Ferguson and the press are just out to get him.

Personally, we know which version of events we choose to believe!