Burnley mascot 'jailed' for offering glasses to assistant referee
The top two sides in the Championship met at Turf Moor on Saturday with Burnley beating QPR 2-0 to cement their place at the top of the league, though the afternoon ended in controversy for the Clarets when their mascot, Bertie Bee, was marched from the touchline by security for an almost Klopp-esque piece of assistant referee baiting.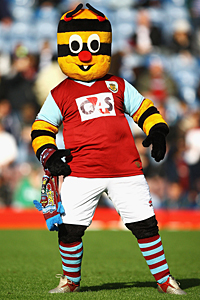 GettyImagesBertie, the mascot of Burnley
Bertie approached the linesman and offered him a pair of glasses. The referee, Simon Hooper, then sent the mascot off for the gesture as fans were left agog as a bloke in an anthropomorphic bee costume was escorted from the sideline by two members of the stadium's security staff.

Poor Bertie was then shown to the holding pens (where pitch invaders and other assorted trouble-makers are usually incarcerated) inside the stadium at Turf Moor and 'jailed' for the remainder of the game...


BUZZKILL! @BurnleyOfficial mascot Bertie was sent off & jailed for handing the linesman glasses! Bail paid in honey? pic.twitter.com/LXYvUu8L1Y

— Sky Bet FL (@SkyBetFL) October 28, 2013


Bertie then tweeted from his cell: "Does anyone know a good Solicitor, I think I might need a little chat with one."

Thankfully, Bertie managed to contact his legal representative and was released shortly thereafter, also confirming that he'll be back on the Turf Moor sidelines to help cheer Burnley on against West Ham United in the League Cup on Tuesday evening.

<Insert obligatory "no sting in the tail" pun here>