Schwarzenegger impressed by Ronaldo's 'spectacular' physique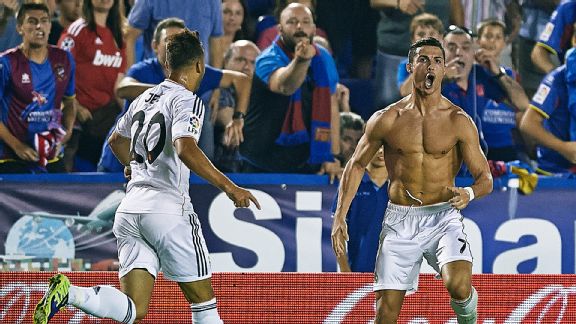 Manuel Queimadelos Alonso/Getty ImagesCristiano Ronaldo showed off his muscles after scoring a late winner versus Levante.
Appearing on a radio station last weekend to plug his Arnold Classic bodybuilding event in Madrid, former Mr. Universe Arnold Schwarzenegger was asked if he thought Real Madrid star Cristiano Ronaldo has what it takes to clamber into a tiny pair of trunks, creosote himself up from head to toe, and flex every last muscle, vein and sinew in his body (in fact, that just sounds like a normal weekend for Cristiano!) on a professional basis.

"He has a fantastic physique," the "Terminator" star replied. "He has some great abs -- he looks spectacular. He looks to be in great shape, so it is clear he's a great footballer."

Schwarzenegger was asked if he thought Ronaldo had the chops to enter the Arnold Classic, to which he replied, laughing off the question as he went: "I don't think he'd be interested in competing in a Mr. Olympia.

"He is interested in being the best player in the world. I was interested in winning the Mr. Olympia title. They are two different sports, but there is no doubt he is in great shape."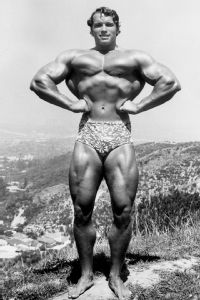 Hulton Archive/Getty ImagesArnold Schwarzenegger back during his bodybuilding days.
First of all, raise your hand if you read those quotes in Arnie's voice. Second of all, if Mr. Schwarzenegger is complimenting you on your physique, then you know you're probably doing something right!