Heavily pregnant woman threatens Europa League referee despite 'good Samaritan' act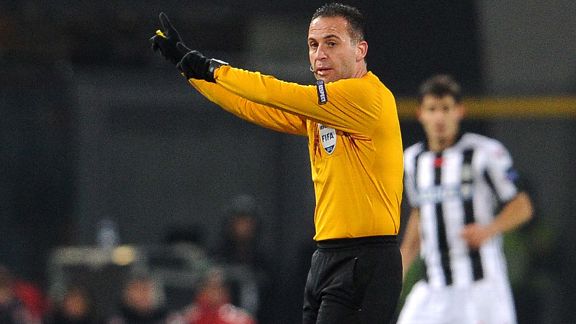 GettyImagesPortuguese official Duarte Gomes.
As if being a referee wasn't a thankless enough job anyway, Portuguese official Duarte Gomes is living proof that a ref can never win, even after doing an unquestionably solid good deeds for heavily pregnant women.

Gomes, who regularly officiates in the Portuguese top flight, the Europa League and in World Cup qualifiers, was queuing at a newsagent kiosk when he noticed the very pregnant lady standing behind him in the line.

Without so much as a second thought, the off-duty ref allowed the woman to take his place in the queue.

According to Sky Italy, Gomes recounted the incident on his Facebook page:

"While queuing at a kiosk to buy a newspaper I see a pregnant lady behind me, a very expectant one, waiting in line. I tried to be a good Samaritan and do the good deed of the day: 'Please go first,' I said.

"She thanked me and I added: 'You're welcome. Maximum priority to those who need it!'

"I did not, however, expect her next reply to be: "What I really need is for [my baby] to be born, grow up quickly and kick your backside so hard that you stop ripping off my club!"

Gomes also noted that he was used to dealing with similar grumbling from "upset gentlemen" but had no idea how to respond on this occasion:

"I did not answer, did not feel like smiling. Nothing came out. I confess I did not anticipate such a fountain of extreme emotion!"

Seriously, who'd be a ref?