Reina sleeps in Balotelli's shirt after saving his penalty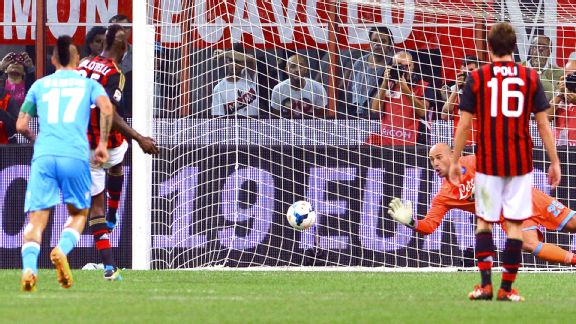 Giuseppe Cacace/AFP/Getty ImagesPepe Reina, right, kept a special memento from his save of Mario Balotelli's penalty attempt last month.
Pepe Reina created a little bit of footballing history two weeks ago when he became the first professional keeper to save a Mario Balotelli penalty, getting a sturdy right hand to the Milan striker's spot kick at the San Siro during Napoli's 2-1 victory over the Rossoneri.

Naturally, Reina fancied a little memento of the occasion and set about asking for Balotelli's shirt after the final whistle.

Balotelli duly obliged and handed over his shirt in the tunnel, though he may now regret his act of benevolence -- especially if he's heard about how the Spanish stopper has put his little gift to use.

"After saving Mario's penalty I couldn't not ask for his shirt. It was a historic event," Reina told Spain's Onda Cero radio.

"He gave me it and I've brought it home to create an unusual pair of pajamas. I sleep with his shirt and Napoli shorts."

Now there's the kind of mental image that even the strongest mind bleach won't shift. Let's just hope Pepe washed it first, eh?