Redknapp hid player's 30,000 pounds in trousers during Portsmouth game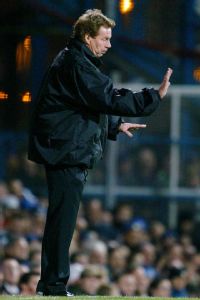 Clive Rose/Getty ImagesHarry Redknapp, shown managing Portsmouth in 2004, may have inadvertently revealed in his new book that something is up when he's not wearing a suit on the touchline.
For those unaware, Harry Redknapp's new book, "Always Managing: My Autobiography", is being serialised in the Daily Mail this week.

Already this week we've heard Redknapp calling the FA clueless for not appointing him as England manager when they had the chance, which looks more than a little ironic when juxtaposed with his subsequent admission that he was once swindled out of hundreds of pounds worth of VIP match tickets and signed shirts by a con man posing as a fake jockey over a period of three years!

Anyway, Tuesday's installment featured a corking little anecdote from his Portsmouth days (the first time round) in which our bumbling protagonist once stashed 30,000 pounds of Paul Merson's money down the front of his trousers for an entire game, specifically Portsmouth's trip to Millwall back in March 2003.

Here's 'Arry to take up the yarn:

"One day at Millwall, Merse came into the dressing room with a big, brown bag full of readies (ed: that's "money" to all the non-Cockney urchins out there).

'Would you look after this for me, gaffer?' he asked. 'It's 30 grand. It's for a bookmaker, an Irish mob. They're after me and I've got to meet them after the game. Will you look after it for me until then?'

"I couldn't leave it in the changing room, but I almost always wear a suit on the touchline. That day I changed. I put a tracksuit on so there was more room to conceal these readies.

"It was OK until I sprung out of my seat on the touchline. As I did, I felt something move. As I was trying to get a message to the players I could feel Merson's 30 grand making its way south along my trouser leg.

"I looked down and the notes were coming out the bottom of my trousers.

"I edged back to my seat like a bloke who needed the toilet quickly. The staff were very concerned.

"'Are you all right, Harry?' I was virtually doubled up, as if in pain. I slid into my seat and didn't move, stuck in this awkward position in case the money moved again.

"The staff kept asking if I needed to see the doctor, and I kept telling them it was nothing, I was fine, I just needed to be left alone. I was rooted to the spot.

"We ended up winning 5–0 and Merson got cheered off by the Millwall punters, he was that good.

"It wasn't the only result he had that day. He told me afterwards that the money he owed was nearer £100,000 than £30,000 but the bookmakers had decided to cut their losses."

So, we've got 'Arry stashing 30 large of Paul Merson's money down the leg of his Leslie Crowthers which, in turn, was owed to an angry, possibly nefarious, Irish bookmaker.

Who'd have thunk it, eh? Well, pretty much everybody if we're honest.