A walk in Manchester park for Saturday League ringer Petrov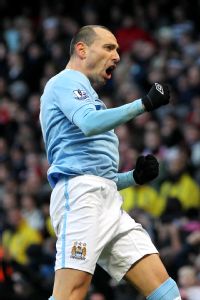 Alex Livesey/Getty ImagesFour years ago, Martin Petrov was wearing blue at the Etihad. Last Saturday he was back in Manchester, but at a much-less-prestigious football venue.
You've got to feel for Allan Cooke. Upon arriving for his Spartak Bushes Manchester Saturday League fixture against Chorlton Torpedo, the centre-back was told that he'd be spending his morning chasing a ringer around the pitch -- not just any ringer, but one who was playing in La Liga just last season.

That's right. Poor old Cooke was informed that he'd be tasked with marking former Manchester City winger and Bulgaria international Martin Petrov, 34, who was released by Espanyol over the summer and recently signed for Chorlton Torpedo on a short-term voluntary deal to keep his fitness up while waiting to complete a move back to his homeland with CSKA Sofia.

Understandably, Cooke couldn't quite believe his eyes as the sides lined up before kickoff at their home pitch on the Armadale Road Playing Fields in the Manchester suburb of Dukinfield. The 27-year-old told the Manchester Evening News:

"I kept looking over because he played centre-forward and thinking 'that's Martin Petrov'. It was surreal.

"I've been telling all my mates and everyone at work and they don't believe me until I show them the picture."

However, Cooke's centre-back partner Lee McKay wasn't overly impressed with the Bulgarian's performance up top for Chorlton. He told the Manchester Evening News that the 34-year-old barely stood out at park football level until stamina became an issue:

"To be honest for the majority of the game you wouldn't be aware he was an international Premier League player. He didn't stand out.

"But from the 80th minute to the 90th, he came into his own because he had that little bit of extra stamina when the rest of us were on our knees.

"He got the winner late on when he rounded our goalkeeper and tapped it in."

It's a little tough to envisage a professional ex-Premier League player turning up in the regional pub leagues on a whim, but there is photographic proof on Petrov's appearance knocking around should you need it to help your brain process the strangeness of it all!