'Alight here for Gary Mabbutt': FA produce fantastic football-inspired London Underground map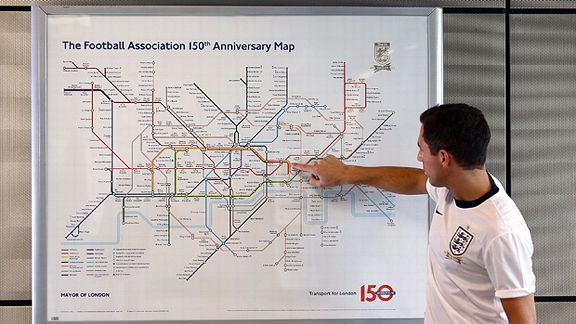 Transport for LondonFA Ambassador Michael Owen examines the London Underground map honoring the FA's 150th anniversary.
As part of their 150th anniversary celebrations, the FA have teamed up with the London Underground to create a special tube map which sees each of the city's 367 stations -- both overground and under- -- renamed after English football's greatest players and managers.

Each of the 14 lines are given special significance: e.g., the Metropolitan line (the oldest in the city) is dedicated to managers, with Sir Alex Ferguson, Roy Hodgson and Graham Taylor included, while England's only World Cup-winning manager, Sir Alf Ramsey, is given the honour of representing the Wembley Park stop.

"Alight here for Pavel Srnicek. Those wishing to reach Gary Mabbutt must change at Michael Owen."

Elsewhere, the Circle line focuses on "Giants of the World Cup," and the Overground line hones in on prominent foreign players in the English game, while the Docklands Light Railway features the names of prewar players and the Victoria line features individuals from the fore of the women's game: Kelly Smith, Faye White, Hope Powell, etc.

Designated lines for goalkeepers, central defenders, full-backs, midfielders, goal scorers, FA Cup heroes, first international captains and even referees are also included.