Ronaldo asks that charges against Miami pitch invader be dropped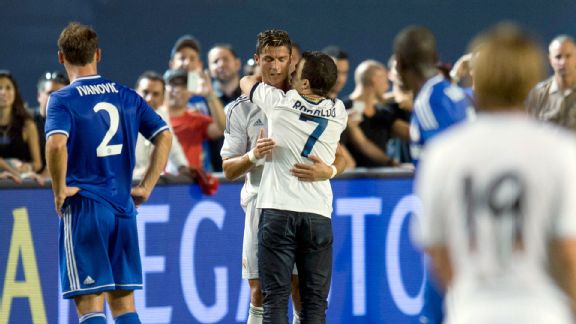 Don Emmert/Getty ImagesCristiano Ronaldo and the pitch invader from last month's friendly in Miami.
Cristiano Ronaldo has written a letter to the Miami police force requesting that they drop the two criminal charges brought against the pitch invader who made his way onto the turf at the Sun Life Stadium during a preseason friendly in August and shared an intense, slightly uncomfortably long hug with the Real Madrid star.

Twenty-year-old Albanian student Ronald Gjoka has been formally charged with trespassing and disorderly conduct after being arrested by police at the game. His attorney has pleaded in the local press that the charges could lead to problems with immigrations and with Gjoka's college if they stick.

After hearing of Gjoka's plight through his advisors, Ronaldo plucked his biro from behind his ear and wrote the following letter to the Miami-Dade State Attorney's Office, politely asking that the charges be dropped:

"I understand your position and the importance of enforcing rules and law. However, I respectfully request that you and your office reconsider this decision and dismiss the two criminal charges this young man faces."

As far as we know, the Miami attorney's office are yet to reply, but it's nice to know that Ronaldo -- a player most fans deem to be entirely self-obsessed -- was concerned enough to get involved and come to Gjoka's defence.

Good on him, we say!