Klopp watched Dortmund's game with the Napoli janitor after sending off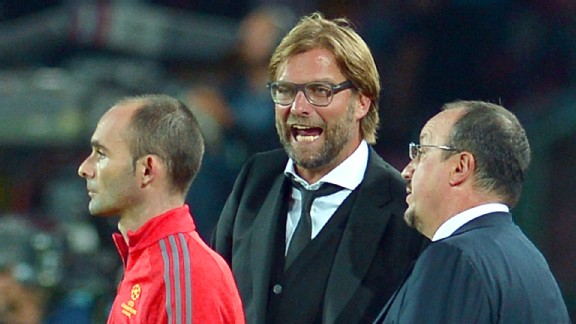 Alberto Pizzoli/Getty ImagesJurgen Klopp gives the fourth official an earful during Dortmund's Champions League defeat at Napoli.
Dortmund manager Jurgen Klopp was forced to watch the second half of his side's Champions League opener against Napoli from underneath the stands after unleashing an unholy, red-faced KLOPP RAGE™ directly into the fourth official's face with 29 minutes of the match gone.

Surprisingly, Klopp took his dismissal with fairly good cheer as he made his way from the touchline. Once under the terraces at the Stadio San Paolo, the Dortmund coach sought a television showing the game -- a search which eventually led him to the caretaker's room, where he proceeded to hunker down and watch the remainder of the tie, even sharing a bit of cake with Napoli's janitor.

"Klopp was really nice. That was the best visit since Diego Maradona," San Paolo caretaker Vincenzo Gerrone, 61, reportedly told Bild. "I had a bit of cake and water there. Then we sat together on the couch and watched the game.

"Mr. Klopp was actually quite calm, but also a little nervous."