Venezuela face World Cup selection crisis after 20 members of 24-man squad laid low by mystery stomach virus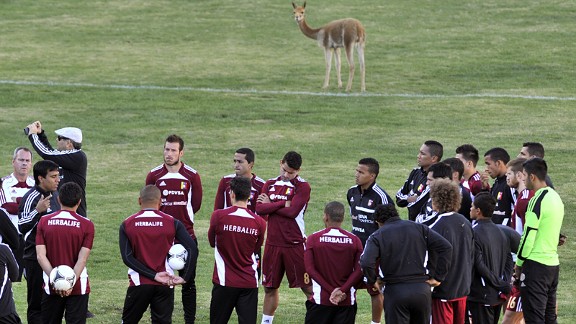 GettyImagesWe assume stray alpaca was not on the menu.
As things stand Venezuela are in dire need of a victory over their hosts going into their qualifying game against Chile in Santiago tomorrow if they have designs on reaching Brazil 2014 and thus no longer be the only South American side never to have competed in a World Cup.

Sadly for coach Cesar Farias, his job got a whole lot trickier on Tuesday night when the squad he had so diligently selected for the Chile game was entirely obliterated by a large-scale bout of explosive diarrhea which left the majority of his players unable to train the following day.

"They didn't have a good night and they weren't able to train well," the beleaguered Farias told reporters.

Indeed, 20 members of the 24-man squad he called up were struck down by the mysterious stomach bug, with the Venezuelan coaching staff still unclear as to what caused the decidedly unpleasant outbreak.

As a first port of call, we'd suggest they ask around to see if any of their players happened to sample the lasagne served at their hotel on Tuesday evening.

Call it a hunch.