Cisse invites Newcastle fans for BBQ in his back yard
Since joining the club in January of last year, Newcastle striker Papiss Cisse has set about ingratiating himself with the locals: going for a 6-pound haircut at his local barber while accompanied by hundreds of Toon fans, turning up unannounced at the home of a 4-year-old fan to thank the youngster for his "Welcome to Newcastle" card, and even professing his love for the club's in-house cook Liz after she put his favourite curried goat dish on the canteen menu.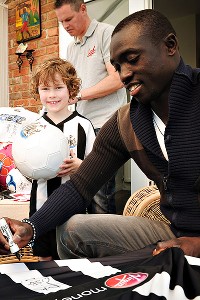 Ian Horrocks/Newcastle United/Getty ImagesPapiss Cisse continues to reach out to the Newcastle community, just as he did in April with this youngster.
Cisse's latest gesture of goodwill is arguably his most personal to date, after the Senegalese striker opened up his house to a small group of Newcastle fans over the weekend, inviting them over for a BBQ in his back garden, an outing the local paper, The Evening Chronicle, was invited to.

Guests were also given a tour of Cisse's Northumberland home, while the younger members of the group were treated to a few frames of pool on the striker's customised pool table, a couple of matches on FIFA 13 and a kickabout on the lawn, before their No. 9 surprised them all with a personalised Newcastle replica shirt.

As if you weren't already suitably impressed with his generosity, Cisse then explained his motivation to the Evening Chronicle:

"I've liked it here from day one. I feel very much at home. I like the area and the supporters and the city. For me now it is all about making them happy.

"For me, [engaging with the fans] is an obligation, a duty if you like. To me, when I pull on the shirt it is for the fans.

"When I first came here I didn't realise so many kids and so many fans would feel the way they do about me. Now my duty is to make them happy for as long as I can do it."

What a thoroughly decent chap. Suddenly all that silly Wonga business goes out the window.