Peruvian FA order striker to travel 900km to play 5 seconds of football for former club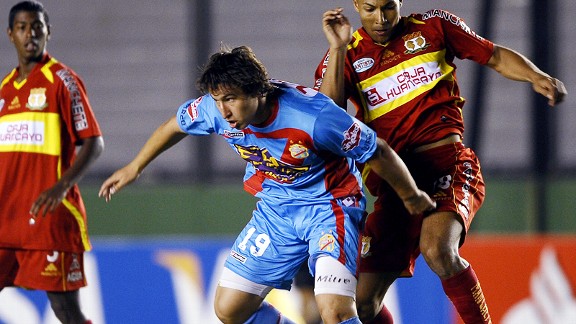 Alejandro Pagni/Getty ImagesJahirsino Baylon, right, was substituted immediately after the restart of the match.
Wednesday evening's Peruvian Primera Division match between Universitario and Melgar had to be abandoned with just eight minutes left to play and the score locked at 2-2 when the referee and his officials were assaulted by the Melgar players and staff for having the temerity to disallow an 82nd-minute goal for the visiting side.

The Peruvian Football Federation deemed the brawl sufficiently nasty to slap Melgar coach Franco Navarro with a 10-match ban (later reduced to eight on appeal), with the FPF also declaring that, rather than rescheduling the fixture or writing it off as a 2-2 draw, the two sides were to play out the final eight minutes of the original game.

In their infinite wisdom the FPF also decreed that the eight minutes were to be staged in exactly the circumstances as the original match in the interests of continuity, with both Universitario and Melgar fielding exactly the same line-ups as were on the pitch at the moment the original game was abandoned.

While this proved to be a bit of an annoyance for all involved, the FPF's decision was particularly bad news for former Universitario striker Jahirsino Baylon who, just two days after appearing in the game against Melgar, signed for Union Comercio and moved almost 900km (560 miles) across the country to join up with his new side.

Not that that mattered one iota to the FPF, who held firm and demanded that Baylon return to Universitario and play his part in their partial re-enactment of the Melgar fixture.

Just to rub a handful of particularly abrasive salt in the wound, Baylon's new club Union also demanded that the striker be substituted immediately upon the restart of the game to preserve him from being injured during the whole palaver.

For the record, there were no further goals scored during the eight-minute rerun, with the final score being logged at 2-2 and Baylon being immediately subbed off the pitch as planned and left to travel 900km home probably wondering what the heck he got out of bed in the morning for!