Burnley FC launch 'i-Pie' app for hungry fans in a hurry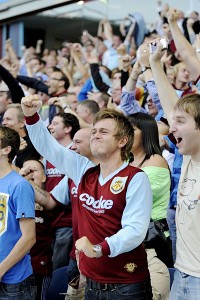 Laurence Griffiths/Getty ImagesBurnley supporters can use their smartphones to make their halftime snacking more time-efficient.
Many of football's technological leaps forward -- goal-line tech, fifth and sixth officials with magic plastic wands, etc., etc. -- leave us feeling distinctly nonplussed. But finally, Burnley FC have done something to make us sit up and take note.

The Clarets have announced the launch of a new mobile app that allows supporters to place online orders for their half-time pies days before a game, ensuring they neither have to queue nor pay for their snacks on match day.

Developed in partnership with digital tech company Preoday, the "i-Pie" online ordering app (which went live before last weekend's game against Yeovil) was commissioned by Burnley to help "increase food and drink sales and reduce queues during the traditionally frantic half-time service."

Here's how it works, per the instructions on the app installation page ...

"With the app you can place your order where ever and whenever you like. At half-time, look for the designated service point under the stand.

"Take your phone with you to collect your order and show the service staff the verification code on the phone. They will have your order ready for you ... and of course there's no need for payment at the till."

The app is free and available to download now, though it's simply called "Burnley FC" if you wish to search for it (it's available on both iTunes and Google Play), meaning you need never queue for your "miscellaneous meat and onion" pie at Turf Moor ever again.

These are truly heady days we live in, people!