Video: Pep Guardiola slips into his lederhosen for the first time
Every year the Bayern Munich squad attend Oktoberfest wearing the traditional Bavarian clothing and this year is no different, with Pep Guardiola slipping into his tight-fitting leather shorts for the first time for FCB's pre-festival photo call, which also saw the former Barca boss - along with new signings Mario Gotze and Thiago Alcantara - loosening up beforehand with a couple of tall jars of Paulaner lager...



Effortlessly cool. Why, it looks like Pep's been wearing lederhosen all his life!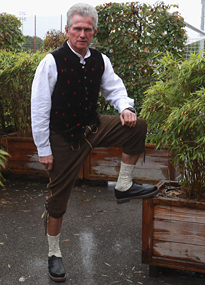 GettyImagesJupp Heynckes: The daddy
That said, he'll never quite measure up to his predecessor, Jupp Heynckes - a man who knew how to rock the bejesus out of a pair of Bundhosen...