Bradford City mascot with diabetes out after 19 years for not being 'portly' enough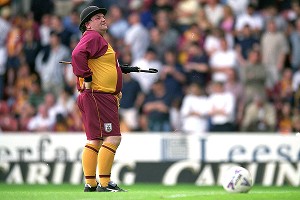 Shaun Botterill/Getty ImagesThe year 2000 was a happier time for Lenny Berry, leading the cheers for Bradford City during a Premier League victory over Liverpool.
After 19 years the man behind Bradford City's "City Gent" mascot is being forced to step down by the League Two club after diabetes caused him to lose too much weight to portray the supposedly portly character to the satisfaction of club officials.

Lifelong Bantams fan Lenny Berry, 59, has been responsible for revving up the crowd as "City Gent" at Bradford games since 1994. Former chairman Geoffrey Richmond spotted him working in the players' bar at the club's ground and deemed him to have the perfect physique for the role -- offering him the job there and then.

But after diagnosed with diabetes several years ago, Lenny has shed over seven stones (almost 100 pounds) and is now a slip of the man he once was. Bradford wrote him a letter, voicing concerns "his appearance no longer matches the original concept" of the rotund City Gent.

The club proposed Lenny could continue if he wore a padded "sumo" suit under his kit to create the illusion of an enormous gut. But he flatly refused, telling the Bradford Telegraph and Argus:

"I'm am absolutely gutted. I am a grown man and this is something I have cried over. I've been through the fire. I've been through everything down there.

"I don't want the club getting hurt, I love the club. If you cut me open I'd be claret and amber. It's not the team and it's not the club, but I am disappointed with the way it's been dealt with.

"In a meeting I asked why it wasn't brought up six years ago when I first lost the weight. They said they knew about my health issues.

"Obviously I've lost a lot of weight. I used to be 17 1/2 stones, whereas I'm now around 10 1/2. I lost it in about 18 months after I found out I had diabetes.

"I used to have supporters chant things at me, like 'Who ate all the pies?' I used to get them going and then grab my belly. I play the part of the mascot though, through my face and my eyes. I've always had a good rapport with fans."

Bradford director Roger Owen told the Telegraph and Argus the issue of their mascot no longer being chunky had been discussed at a board meeting just after last season, and said Lenny was provided with a decent compromise:

"The main issue was his physical appearance, which was much changed from the original concept of the then-chairman, the late Stafford Heginbotham, who styled the City Gent on himself.

"It was . . . . agreed that Lenny be formally contacted, by letter, to put our various points to him and to suggest that the club obtain a Sumo-type suit with character headpiece to represent the Gent.

"The Football League had told us at the time of the League Two Play-Off final that only animal or human mascots were now appropriate if they wore an anonymous headset.

"Lenny was given a deadline to respond, which was extended and then not complied with by our meeting on Friday. .. Lenny advised me that he would cease his role as City Gent with immediate effect."

The decision to replace Lenny's City Gent with a generic, foam-rubber-suited character hasn't gone down well with Bradford fans, who have taken to social media in droves to complain about Berry being let go.

However, it seems that the writing has been on the wall for the Gent for a while now, with Bradford banning Lenny from throwing sweets into the crowd (which he paid for himself) for fears a rogue jelly bean might take a child's eye out or bring about a repeat of the 1858 Bradford sweets poisoning by mistake.

Who'd be a mascot in this day and age, eh?