Aguero offers to buy five new players for former club, Independiente fail to return his call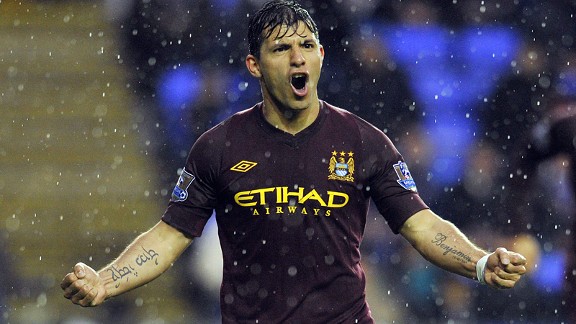 GettyImagesGoing, going, Kun
What with being relegated from the top tier of Argentinian football for the first time in their 108-year history last season, starting their first season in Nacional B with a home defeat against lowly Club Atletico Brown on Saturday and struggling to make ends meet financially, Independiente are currently floundering in what is technically referred to as a 'quagmire' at the moment.

Having watched his former side's plight from afar, it's being reported that former Independiente prodigy Sergio Aguero recently offered to lend a hand by proposing that he buy the club five shiny new players (and pay their wages) in a bid to pad the paper-thin squad out. However, the Manchester City man was apparently given nothing but short shrift by the team he originally signed for as a nine-year-old back in 1997.

Speaking at an Independiente fans' forum, the City striker's father, Leonel Aguero, revealed that his son had offered to stump up the cash to bring a quintet of new faces into the club, but that he never received a reply from anyone connected to la Rojo:

"Sergio offered to buy five players and take over their salaries. We asked (Independiente assistant manager) Carlos Squeo for a list of players but we don't know anything because no one called - not Squeo, not (head coach, Miguel Angel) Brindisi.

"There's no leadership. I feel there is a slight against Sergio."

Now that's gratitude for you!