Steaua Bucharest owner Gigi Becali rejects Tottenham's bid for Vlad Chiriches from prison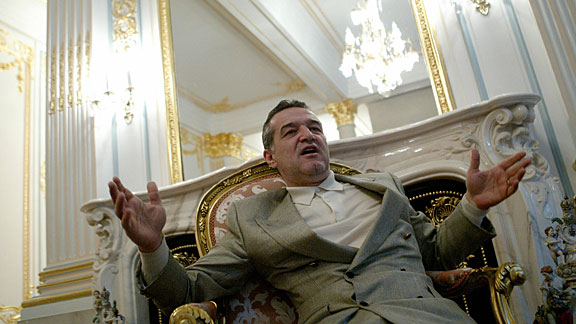 GettyImagesLife inside a Romanian jail sure looks rough!
There are many, many reasons why clubs pull the plug on transfer deals: medicals showing up knee joints held together by elastic bands and parcel tape, agents angling for enormous cuts, dodgy clauses being bandied around, having to eat a sheep's testicle, etc, etc, but 'imprisoned club owner throwing a tantrum in his jail cell' is certainly a new one on us!

Slightly quirky (and that's putting it incredibly diplomatically) at the best of times, Steaua Bucharest owner Gigi Becali - who was sentenced to four years in prison back in May over abuses of his political power - flew into a rage upon hearing that Tottenham had made an €8 million approach for highly-rated defender Vlad Chiriches and used his one-phone-call-a-day to ring the club's manager, Mihai Stoica, and bellow at him to reject the bid immediately from his cell at Bucharest's Rahova jail.

Apparently Becali was paranoid that Tottenham were trying to prise Chiriches away from Steaua before the club's imminent Champions League qualifying game against Dinamo Tbilisi, with coach Stoica giving a verbatim transcript of his chairman's angry rant to a local newspaper:

"Who are Tottenham?! Do not do any transfer, my name is Gigi Becali! I'm not a slave to anybody! We have an important game in the Champions League, why can't they wait?

"Until winter he will not leave under any circumstances. This could be a blow to Chiriches, but he should understand. He owes a lot to Steaua. Things are good, we are in qualifying for the Champions League. We are in good shape."

Unsurprisingly, Tottenham have since shelved their interest in the centre-half.

You can't argue that Becali's maniacal approach to club ownership doesn't get results.