Zlatan parades around in 'man-kini' after Madrid friendly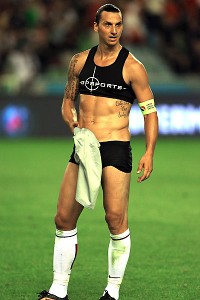 Martin Rose/Getty ImagesIs Ibra's post-match 'attire' a fashion statement or the latest advancement in sports technology?
Real Madrid beat Paris Saint-Germain 1-0 in a preseason friendly in Sweden on Saturday night. But it's fair to say humankind was the real winner as, after the final whistle, Swedish international Zlatan Ibrahimovic stripped down to his gentleman's sports bikini -- although apparel sponsors GPSports might prefer another description -- and paraded around the pitch for all to see.

We ask you, is this not the pinnacle of man?