Bosnian Bayern fan walks 600 miles to Allianz Arena to honour Champions League vow
Vahid Cehaja, a Bayern Munich fan from Bosnia, completed a gargantuan trek from his native land to Bayern's Allianz Arena on the outskirts of Munich on Wednesday, making good on a promise he made three years ago to make the pilgrimage if his team won their fifth European title.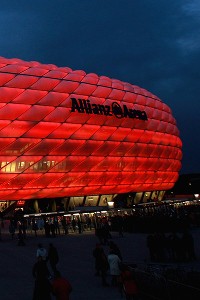 Alexander Hassenstein/Getty ImagesAfter his 42-day, 600-mile walk, the sight of Allianz Arena could not have been sweeter for Vahid Čehaja.
Cehaja told reporters he originally swore to walk the 600 miles from Bosnia to Bavaria in frustration after watching his side lose to Inter Milan in the 2010 Champions League final.

Lo and behold, having been pipped once again in the 2012 final at home against Chelsea, Bayern finally managed the feat at Wembley in May and Cehaja, being a man of his word, kept up his end of the bargain. June 10, he set out walking from his hometown of Bugojno through five countries (Bosnia, Croatia, Slovenia, Austria and Germany) to the Allianz armed with nothing but a Bayern shirt, a cap, two pairs of comfortable trainers and a small bag full of toiletries.

The 45-year-old completed his walk Wednesday morning, just in time to watch Bayern's preseason friendly against Barcelona, though not before going to have his poor, ravaged feet attended to at Munich hospital -- there are photos here; they ain't pretty!

"In honor of the fifth Bayern title I walked from Bugojno to Munich. I wanted to show respect to all those [players] who have so far won titles with Bayern Munich," Cehaja told reporters after arriving outside the stadium.

Bild reported Cehaja's walk took 42 days, in which he lost 28 pounds while averaging 14 miles a day.

We're guessing he may well have taken the train home!