Juan Sebastian Veron comes out of retirement for one last season, donates wages to Estudiantes youth team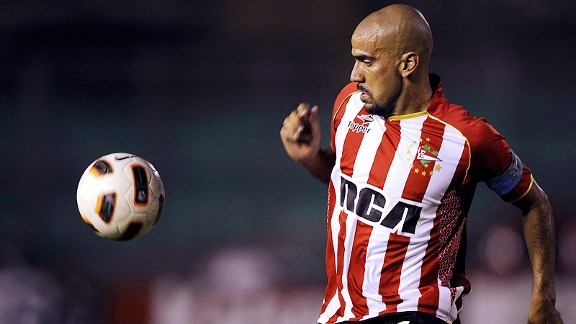 Eitan Abramovich/Getty ImagesEstudiantes legend Juan Sebastian Veron is coming out of retirement.
Juan Sebastian Veron has announced that he has reversed his decision to retire in order to play one last season in the Argentinian Primera Division for his beloved Estudiantes.

Now aged 38, Veron has been serving as a sporting director at Estudiantes since he officially called time on his playing career at the tail end of the 2012 Clausura season after being stymied by several nagging injuries and a slump in form. But the former Argentina international signed a new, one-year contract for one last tour of duty with his boyhood team on Thursday -- a contract that will see all his wages for 2013-14 donated to Los Pincharratas' youth side.

Speaking to Radio Del Plata, Veron said: "I don't think I'm in the form of that time when we won the Libertadores Cup (in 2009), but I'm just as motivated because I love playing football."

As well as fulfilling his directorial duties with Estudiantes last season, Veron kept himself trim by playing for a local side that won the La Plata amateur league, so the man they call "La Brujita" ("The Little Witch") isn't entirely out of shape -- though how much use a 38-year-old, injury-impeded veteran who hasn't played professionally in a year is going to be in the Argentinian top flight next term is open to debate.

Still, we can't imagine the Estudiantes youth team are complaining!