Maradona denied visa to enter U.S.; wanted to visit Disney World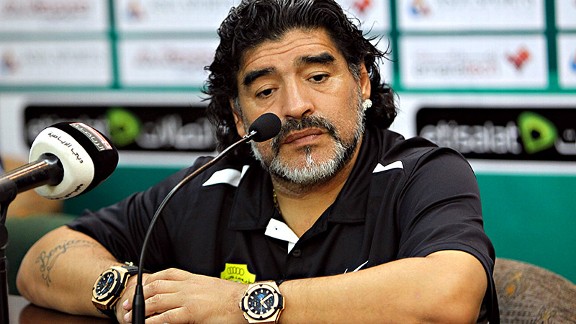 Amin Mohammad Jamali/Getty ImagesNo Disney World for Diego Maradona.
According to The Sun, Diego Maradona is a bit of a Grumpy Gus today after being told that he won't be allowed to go and meet his favourite cartoon friends at Disney World because U.S. authorities denied him a visa.

Maradona wanted to take a family trip to the Florida theme park with his girlfriend, his two daughters and his grandson, but was denied entry to the U.S., for unexplained reasons, according to the British tabloid. Previous drug arrests and his well-publicised friendships with Fidel Castro and Hugo Chavez certainly don't help matters.

- ABC News: Maradona allegedly denied a U.S. visa

Apparently, the Argentinian legend -- currently Dubai's sports ambassador after having been sacked by Al Wasl last summer -- pleaded his case in person at the U.S. embassy in Dubai, but his visa application was still refused, with a source informing The Sun that the decision was "political," telling the tabloid:

"[Maradona's] relationship with the U.S. has never been good. His friendships with Fidel Castro and Hugo Chavez and other enemies of the US stopped him being given permission before.

"It was a bit of a kick in the teeth for Diego. The family were really excited about the holiday."

So unfortunately there'll be no photograph of Diego out of his mind with happiness while posing with Goofy, just like when Mario Balotelli visited another theme park in Orlando and got to meet a certain sponge who lives in a pineapple under the sea.

Darn shame.