Al Fayed threatens to shave off new Fulham owner Shahid Khan's mighty moustache if he removes Michael Jackson statue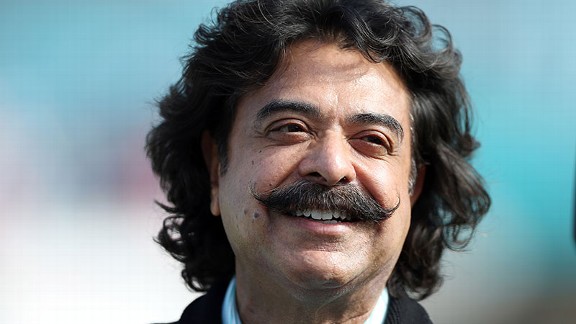 APShahid Khan has agreed to buy Fulham Football Club.
Jacksonville Jaguars owner Shahid Khan completed his £200 million takeover of Fulham on Firday afternoon and the Pakistan-born businessman's first order of business was to meet with outgoing chairman Mohamed Al Fayed for a ceremonial "passing of the baton" in front of the press at Craven Cottage.

Al Fayed being Al Fayed, he turned out for the occasion wearing a large novelty moustache in "tribute" to Khan, who himself sports a luxurious gentleman's lip fringe.

Frankly, we wouldn't expect anything less from the delightfully quirky 87-year-old Egyptian billionaire who, need we remind you, was the man responsible for a 20-foot statue of Michael Jackson being erected outside Fulham's stadium and then telling "stupid" fans they could "go to hell" if they didn't like it.

Indeed, many Cottagers fans were hoping that Al Fayed would take his ridiculous effigy of a man who wandered around the Craven Cottage pitch for a couple of minutes once back in 1999 with him when he sold up, but Al Fayed has told Khan that he will be in "big trouble" if he tampers with Jacko, telling Khan at his press presentation:

"Michael Jackson will stay. He can't go, he is here. It is part of the deal, it is history, it is listed. You can't change otherwise I will come and take your moustache in public. He knows that."

Ordinarily we'd argue that surrendering one's facial hair would be a small price to pay to get rid of that hideous monstrosity from the banks of the Thames, but Khan's magnificent top lip furnishing is just far too exquisite to be meddled with.

Sorry Fulham fans, but MJ has to stay.