Thurrock FC relegated by FA over unpaid fine of just 16 pounds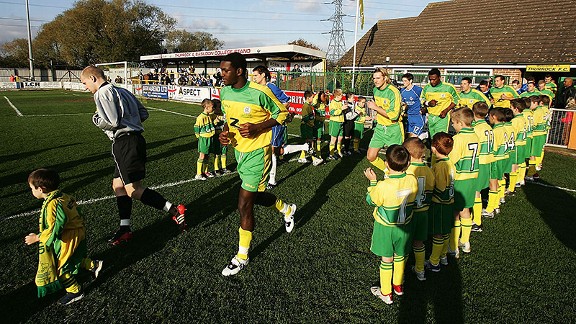 Christopher Lee/Getty ImagesThurrock FC has been relegated to the Isthmian Division One North.
Many lower and non-league clubs have gone to the wall over the past few years for failing to pay off debts that a Premier League player could clear after half-an-hour's work, but the plight of Isthmian Premier Division side Thurrock FC may well be a record as far as low-budget black-listings go.

Essex-based Thurrock have been docked three points by their league which, in turn, has seen them relegated down to the Isthmian Division One North after the club inadvertently fielded a player last season who owed a paltry 16 pounds (around $24 in Yank dollars) to a former team.

The Fleet, as they are known to their fans, managed to secure Isthmian Premier Division safety by a single point in 2012-13, only to be told they would be docked three and therefore relegated anyway almost a month after the season ended.

Joel Barnett was technically banned from playing in the Isthmian League having previously played for a team based in Yorkshire that folded with unpaid fines (the total cost of which was equally divided up between the players, i.e, the £16 in question) yet to be paid to West Riding FA.

Thurrock owner Tommy South told BBC Essex: "Joel should have told us but he never knew [about the fine] because he was in prison."

Prison, eh? That old chestnut!? Apparently South along with the rest of the Thurrock board lodged an appeal with the Football Association, but it was rejected on the grounds that the club should've done their research before fielding Barnett.

"It's a disgrace. It all happened 11 months ago and what the FA and Ryman League have told us is that we should have checked this website and that, but we followed procedure by checking with our own county FA," South continued.

"It's a real mess because he got sent off playing elsewhere before he came here and got a three-match ban but nothing was flagged up."

However, Thurrock aren't about to just roll over and accept their punishment, oh no, for they now plan to take their case to the European Court of Arbitration for Sport (CAS) in Lausanne.

Yes, really.