Maracana Stadium officials seek to ban fans from standing up, waving flags, playing instruments and removing their shirts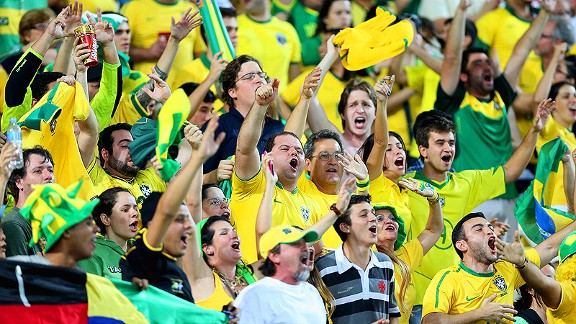 Jasper Juinen/Getty ImagesMaracana Stadium officials are trying prevent Brazil fans from being, well, Brazil fans.
Brazilian fans created some truly terrific atmospheres at the Maracana during the recent 2013 Confederations Cup, despite the newly-renovated stadium being saddled with a slew of FIFA safety initiatives and the streets outside playing host to almost non-stop political protests and brimming social unrest.

Indeed, a couple of those a capella renditions of the national anthem, roared in unison by 60,000 rapturous Brazilians and their national team, were enough to send ice cold shivers down the hairs on the back of your neck.

Bafflingly however, Maracana administrators are planning to do away with that sort of thing before FIFA's World Cup circus rolls into town next summer, with reports today that they are considering a raft of new rules that will prevent fans from doing anything other than watching the game adhered to their seats in solemn, dignified, fully-clothed silence.

The Maracana officials are apparently hoping that the sanctions -- specifically designed to "change the habits" of Brazilian fans -- will be in place by the time that Rio de Janeiro's four top-flight clubs, Flamengo, Fluminense, Vasco da Gama and Botafogo, all move into the stadium come August.

According to Reuters, Joao Borba, president of the Maracana Consortium, told the daily newspaper Extra: "We are going to talk to the clubs about a change of habit. I'm talking about bamboo (being used as flagpoles for large banners), firecrackers and watching matches standing up."

The Reuters report also adds that a ban on musical instruments is also under consideration and that fans will be told not to take their shirts off while in the stadium.

Jogo Bonita has never sounded so beige.