Brian McDermott responds to 'It's Your Round' chant by handing €50 'beer money' to travelling Leeds fans after Slovenian friendly
Just as he did with former club Reading in 2010 and 2011, Leeds United manager has taken his boys on a pre-season around Slovenia, with his side comfortably seeing off a local "Select XI" side 3-1 yesterday evening thanks to goals from Matt Smith, Dominic Poleon and new signing Noel Hunt as the squad continue to limber up for next year's Championship promotion tilt.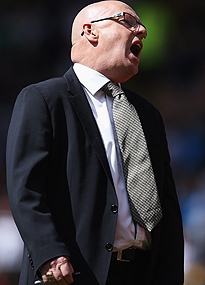 GettyImagesTime, gentlemen, please!
Rather impressively for such a low key fixture some 1,170 miles from Elland Road, a small group of travelling supporters turned out to cheer on their side at the Fazanerija City Stadium on the outskirts of Murska Sobota - a task which proved to be thirsty work.

As the final whistle sounded, a chant of "Oh Brian, it's your round!" was struck up by the Leeds fans. Upon hearing the collective plea for beer, McDermott made his way over to the away section at full-time and handed a €50 note from his own pocket through the fencing as a little token of thanks for their unwavering support.

McDermott later told Yorkshire Evening Post journalist Phil Hay: "That €50 was all I came out with. I'd have given them more if I'd had it. I feel a bit bad actually."

Worry not, Brian, as TP can confirm the money was put to good use, with several of the fans Tweeting photos of their empty beer bottles to Hay after the game, with @omash22 saying, "beers flying all around the pub thanks to big Mc, absolutely quality."