Red Bulls offer fan clubs $500 a game to stop obscene chants
Brian Straus of Sports Illustrated reported Monday that New York Red Bulls management is taking a new approach to ending the 'tradition' of Red Bulls supporters jeering opposing goalkeepers by chanting "you suck a--hole" at them before every goal kick -- a lighthearted if slightly crude practice which has spread by osmosis to a few other MLS stadiums over the past season.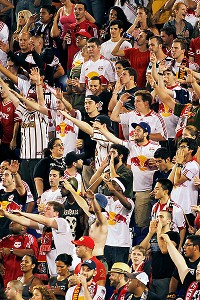 Andy Marlin/Getty ImagesThree Red Bulls fan clubs will financially benefit if they can persuade members to clean up their chanting language.
Understandably, the prudish executives in the MLS legal department are keen to eradicate the chant.

In a bid to nix it, the Red Bulls have come up with a solution which they hope will persuade fans to change their ways. In the hope that simply throwing money at the problem will make it go away, the Red Bulls are hoping that paying fans a lump sum of $500 per game will ensure the chant never sullies their stadium again.

Yep. Straus reported Red Bulls have notified their three organized fan groups -- the Empire Supporters Club, the Garden State Ultras and the Viking Army -- that the club will donate $500 into their respective coffers for each home game in which 'the chant' isn't heard

Straus reported the money will be doled out in $2,000 increments, meaning fans will have to remain obscene goal-kick chant-free for four straight games for money to be paid. So if fans manage two straight home games on their best behavior and then the chant is heard in the third game, the $1,000 tally will be wiped and the count begins again from zilch.

Once they successfully manage to go four games without the goal-kick chant, the supporters' groups will then be free to use the donations for anything they see fit. Straus reported the Empire Supporters Club informed members they will use it "from buying batteries for the megaphone to offsetting costs for bus trips."

Good luck with that!