Messi apologises for cancelling 'Messi & Friends' L.A. exhibition 24 hours before kickoff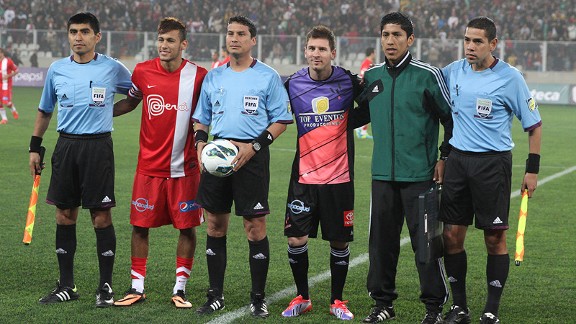 Marco del Rio/Getty Images/AdidasA Los Angeles exhibition featuring Lionel Messi and all-world "friends" such as Neymar was cancelled Wednesday, one day after Messi and Co. appeared in Lima, Peru. The world tour is to resume Saturday in Chicago.
Lionel Messi has openly apologised via his Facebook account over the furore caused when his "Messi & Friends Tour" exhibition game scheduled to be played in Los Angeles Wedneday night was cancelled just over 24 hours before it was to kick off.

Having staged a similar game in Lima on Tuesday evening, Messi and his traveling band of footballing compadres (including the likes of Neymar, Cesc Fabregas, Antonio Cassano, Julio Cesar, Pablo Aimar, Dani Alves, Exequiel Lavezzi, Eric Abidal and...erm...Jose Manuel Pinto) were supposed to repeat the feat in LA the following night to help raise funds for Messi's eponymous charity foundation. But promoters pulled the plug while the game in the Peruvian capital was taking place despite an impressive 45,000 tickets being sold (at up to $300 a pop) for the California leg.

For reasons yet to be determined, the match fell through completely, with rumours abounding that promoters pulled out after catching wind of unsubstantiated speculation that Messi wouldn't be taking part due to fatigue thanks to the woefully inept scheduling (the Barca star was reportedly due to fly from Peru and land in LA three hours before kickoff).

A flurry of corporate sniping then whipped up, with Todd Graham, CEO of El Padrino Spirits, Inc. (who are/were the main sponsors of the event at the Memorial Coliseum). rather overdramatically accusing Messi's camp of a "blatant attempt to defraud American citizens".

Messi himself let the whole thing cool down before issuing a very sincere-sounding apology to fans via Facebook:

"Disappointed by the management of the charity match in Los Angeles. I really wanted to be there and enjoy as I did in Peru and Colombia. This project is made for the fans, and that's why I'm very disappointed with the organization.

"A big hug to those who were going to support this cause at L.A. Memorial Coliseum and thank you all for your support."

With the LA game binned, the final game of the tour is scheduled to be played at Chicago's Soldier Field Saturday -- though who knows if we'll ever get that far?