Bayern Munich apologise to Adidas after Mario Gotze is officially unveiled wearing Nike t-shirt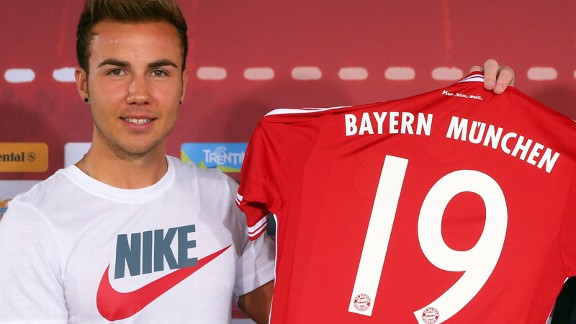 GettyImages
It's fairly common knowledge that Mario Goetze is already thoroughly despised by Borussia Dortmund fans (so much so, in fact, that three BVB-supporting rappers were inspired to write a song about him containing the lines "you dirty rat", "you're a Judas" and "we can't wait for the day Grosskreutz fouls you") but Bayern Munich's new €37 million signing has also come dangerously close to falling out with his new employers too, despite only being at the club for five minutes.

Bayern have been forced to apologise to Adidas, who have provided the Bavarian giants' kit since the dawn of time, after their new €37 million signing turned up to his official FCB unveiling with the logo of their main competitors splashed across the front of his t-shirt.

Goetze's ill-advised choice of clothing had Adidas' PR department straight on the phone to Bayern Munich's media director Markus Hoerwick, who was left to apologise profusely for the gaffe:

"We were called by Adidas and we apologized that this happened. Mario Goetze is authorised by his contract with Nike to wear their football boots during games," Hoerwick told Bild. "But he must of course meet the needs of our kit handler at official events like [his unveiling]."

He continued: "Goetze's shirt regretfully passed us by in the general hustle and bustle that surrounded the event and we have assured Adidas that this will not happen again."

When approached for a reaction to the corporate cock-up, Adidas spokesman Oliver Bruggen gave the most wonderfully abrupt, uber-German reply: "We were negatively surprised."

Part of us wants to groan at the level of sway sponsors and corporate partners have over this kind of thing and part of us wants to chuckle ourselves into merry oblivion at the sheer absurdity of it all!