Joe Kinnear claims to be 'head and shoulders above' every other director of football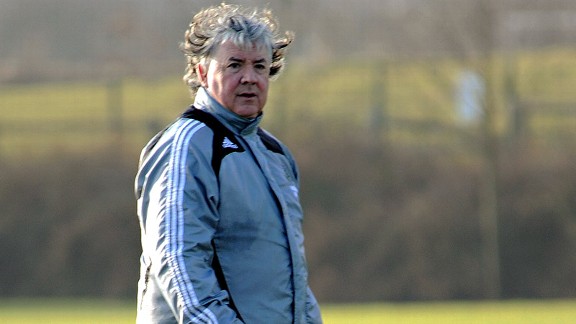 Serena Taylor/Getty ImagesThe head-shaking pronouncements from Newcastle Director of Football Joe Kinnear continue.
Having already waded in and announced his appointment by letting rip with an avalanche of erroneous CV embellishments and mispronounced names ("Yohan Kebab" ring any bells?), Newcastle United's new director of football, Joe Kinnear, has once again been allowed to speak in public to disastrous ends.

Still fighting his corner after being lampooned by Newcastle fans and non-Newcastle fans alike over his opening speech upon his appointment, Big Joseph has told a local newspaper that he thinks he is "head and shoulders above" every other director of football.

Why? Well, because he used to be a football manager, that's why -- and that, so far as he knows, makes him unique in the murky twilight world of directors of football.

Kinnear told the Shields Gazzette:

"I've been a manager for 35 years. I've been manager of the year. I've won every award there is in football as a player. I think all those qualities put me head and shoulders above every other director of football.

"The manager can't do everything. I'm probably the only football manager to be a director of football. I don't know any other ex-managers who have."

Except of course Kenny Dalglish, Harry Redknapp, Steve Coppell, Barry Fry, Ron Atkinson, Avram Grant, David Pleat, Sven Goran-Eriksson and Dave Bassett to name but a few.

Kinnear continued:

"Some directors of football have never played the game. I'm lending my experience as a manager for all those years: 10 years at Wimbledon, two years at Nottingham Forest, two years winning promotion at Luton and, of course, almost two years at Newcastle. I would still be there had [not suffered a heart attack]."

A cursory glance at his managerial record shows Kinnear actually spent seven-and-a-bit years at Wimbledon, just over 11 months at Forest and a whopping five months at Newcastle as manager. That said, we'll give him the Luton thing, though the Hatters were also relegated during his time in charge at Kenilworth Road.

*Sigh*

Sadly as far as Newcastle supporters are concerned, Joe Kinnear looks to be the gift that keeps on giving.