Ronaldinho launches line of Atletico Mineiro condoms
In his role as global ambassador for United Nations against AIDS, Ronaldinho has launched his own line of signature condoms. The wait is finally over.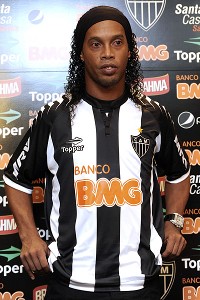 AP Photo/Eugenio SavioRonaldinho launched his new endorsement on his Facebook page, which has more than eight million 'likes'.
Said the man himself on Facebook and Twitter: "Guys, a condom with my signature on has hit the market, Atletico MG 'Sex Free'. In partnership with sport against AIDS!"

Along with the crest of his current club, Atletico Mineiro, the 'Sex Free' condoms have Ronaldinho's image and signature on the packet -- presumably the thinking being that one look at Ronaldinho's face is enough to put anyone off their stride.

In fact, the science is flawless: there is no greater form of contraception on this planet than a quick glimpse of Ronny's gawky mush as you're about to get busy.

(Image via Ronaldinho Gaucho/Facebook)