Johan Cruyff claims Barcelona should seriously think about selling Messi now they have Neymar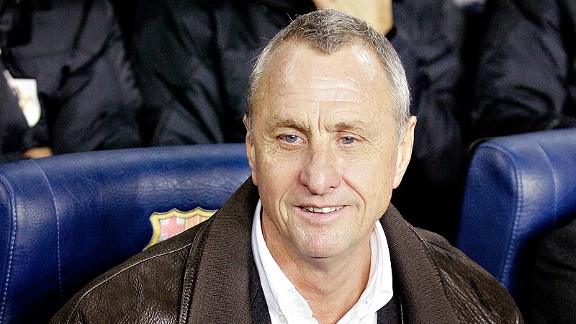 Josep Lago/AFP/Getty ImagesJohan Cruyff: Never a man to say or do anything contoversial
Wise old sage Johan Cruyff has advised Barcelona that they should seriously consider selling Lionel Messi now that they have Neymar on the books as playing the two together may represent a "big risk".

Cruyff, who has played for, coached and fulfilled both directorial and presidential roles for Barca over the years, seems to have a theory that the Barca first team couldn't possibly support both Neymar and Messi, and that, while he personally wouldn't have signed the Brazilian in the first place, one of the pair should be flogged post haste.

Jopie told Marca: "No, I wouldn't have signed Neymar [but] with Neymar on board, I would have planned for the possibility of selling Messi - and some would agree with that, others not.

"You are talking about a team, its players, the things around it ... There are too many things at stake. That's why it's so difficult to manage such a top class squad.

"It's like the freekicks. Neymar is very good at taking them, and Messi has already shown he is. Who's going to take them?

"Or the fact that Neymar and Barcelona are with Nike while Leo is with Adidas. These are situations that could cause problems. We'll have to wait and see - it could turn out well or badly. It's a risk."

Now, the Cruyffster may have a fairly sound point in there somewhere: two huge, global stars being forced to share the same limelight could be a potential nuclear egobomb just waiting to go off, but the very thought that Barca would even entertain notions of selling Lionel "215 goals in 246 games/four consecutive Ballon d'Ors" Messi?

Oh, do behave Johan!

If having to field not one, but two world class forwards is the only "risk" Barca have to encounter next season then they're, quite frankly, laughing... probably all the way to back-to-back La Liga titles.

As for the freekick duties, may be suggest a coin-toss or a quick game of "Rock, Paper, Scissors, Lizard, Spock"?

You may well scoff, but it's not like it hasn't been done before.