Top 12 weird and (not so) wonderful football sackings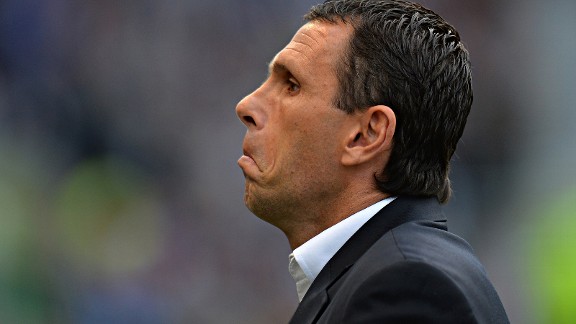 GettyImagesGus Poyet was informed by his club Brighton, via a statement, that he had been sacked whilst on pundit duty on a live TV show
What with Gus Poyet apparently receiving his P45 from Brighton "live on air" on Sunday night (more on that shortly) the Toe Poke thought we'd have a timely shufty at some of the more weird and wonderful firings to have occurred in the footballing realm over the years.

Plenty of managers have won a glut of trophies only to find themselves canned the very next moment: Gianluca Vialli, Roberto Di Matteo and Vicente Del Bosque all instantly spring to mind, but we thought we'd focus on the stranger, altogether more ridiculous sackings to have been administered by football's various powers that be...

12. Gus Poyet, Brighton & Hove Albion: Poor old Gus was half-way through providing punditry for the BBC's coverage of the Confederations Cup game between Spain and Nigeria on Sunday evening when host Mark Chapman informed him that he had been relieved of his duties by Brighton. To say it was all a bit awkward is an understatement-and-a-half.

Poyet and several members of his backroom staff were suspended by Brighton a month or so ago and, as The Seagulls are keen to remind everybody, a decision over the Uruguayan's future was known to be pending - but that didn't make the Beeb's half-time segment any less cringe-inducing.

11. Bruce Rioch, QPR: The man credited with bringing Dennis Bergkamp to Highbury, found that he was surplus to requirements at Loftus Road in 1997 after reading about it on the BBC's pixel-based rolling news service and precursor to the internet, Ceefax.

Rioch said: "I was at home watching the television when I turned on Ceefax and read that I had been sacked."

QPR later apologised for the manner in which Rioch was informed. Poor Bruce isn't alone in that field either, with Ruud Gullit also admitting that the first he heard of his Chelsea sacking in 1999 was not from Ken Bates, but from Teletext.

10. Leroy Rosenior, Torquay United: Rosenior is now carving himself a niche as a lower-leagues expert in his role as pundit on The Football League Show, but there was a time when he was almost solely famous for being the shortest-lived manager in the history of association football after being put in charge at Torquay for ten - count 'em - TEN minutes!

The story goes that Rosenior was brought in by outgoing Torquay owner Mike Bateson to steady the ship at the non-league outfit until the club was sold and things began to self-right again.

Rosenior was then unveiled to the local press at a news conference only for Bateson to almost immediately agree to sell his 51% controlling stake in the club to a local consortium, who duly relieved Rosenior of his duties again and brought in their man, Paul Buckle, who ended up guiding The Gulls into the Football League.

9. Mervyn Day, Carlisle United: After retiring as a player in 1993, Day moved into management and took the job at his last club, Carlisle, in 1997. Day duly led Carlisle to promotion into Division Two and won the Auto Windscreens Trophy (i.e, the Football League Trophy) in 1997, but left shortly after having come to the end of his tether with meddlesome chairman Michael Knighton, who duly appointed himself as the Cumbrian's manager just six games into the 1997/98 season.

Knighton, who had previously attempted (and failed) to buy Manchester United, then promptly led Carlisle back down to the bottom tier.

8. Mark Poulton, Chichester City: Whilst watching his Sussex County League One side play a cup tie against local rivals Redhill, Poutlon's mobile phone went off in his pocket during the game. It wasn't good news.

"During the second half I had a call from Gary Walker, one of the directors, who said he was sorry to interrupt me and then told me I'd been sacked!" a dismayed Poulton told the local newspaper.

"It's the most unprofessional and shambolic organisation I've ever been involved in. I'm deeply unhappy with the way I've been treated. I've built up a good squad and we'd started to get results."

Indeed, Poulsen was also informed that it would be his predecessor, Adie Girdler, that would be the man to replace him at the helm. Chichester were 2-1 up at the break. They went on to lose 4-2.

Make of that what you will!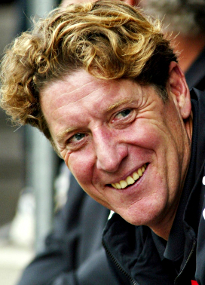 GettyImagesHarald Schumacher smiles through the crisis at Fortuna Cologne
7. Harald Schumacher, Fortuna Cologne: Schumacher will forever be known as the goalkeeper that reduced Patrick Battison to a pile of flesh-coloured putty at the 1982 World Cup, but his reputation as a manager is just as ignominious.

Schumacher took over at second division side Fortuna Koln in 1998, but was sacked shortly thereafter when, with Fortuna losing 2-0 at half time to Waldhof Mannheim and struggling badly to pick up any league points, club president Jean Loering stormed into the dressing room at the interval and fired "Toni" on the spot.

"I asked Toni not to come back for the second half," said Loering. "I wanted him to leave the stadium immediately. I idolised Schumacher as a player but I'm not going to sit on my hands while he takes my club to the grave."

For the record, Schumacher's wonderfully-named assistant Ralf Minge took charge and proved an inspiration as Fortuna turned it around in the second half, eventually losing 5-1.

Yep, we fibbed about the whole "turning it round" thing a bit there.

6. Martin Jol, Tottenham: With the team out of sorts and supposedly out of shape thanks to Jol's reportedly lapse training sessions, chairman Daniel Levy and his associates had decided that the growling Dutchman was to be sacked before Tottenham's UEFA Cup game against Getafe in 2007, though they were going to hold off from telling Jol until after the match so as not to disrupt things.

Unfortunately for them, word of Jol's impending firing leaked out around White Hart Lane during the game, culminating in Jol receiving a text message from his nephew at half-time to ask if the rumours were true.

They were.

5. Tony Adams, Portsmouth: Following a fairly rancid first few months in charge, picking up just 10 points in 16 games after stepping into Harry Redknapp's wake at Fratton Park, Portsmouth chief executive Peter Storrie finally lost patience with Adams in October 2008 and called him to give him the news of his sacking. In a show of impeccable timing from Storrie, the call came while Adams was busy blowing out candles and mopping infant saliva from the cake at his five-year-old son's birthday party. Harsh.

4. Dave Kinsell, Hangleton Rangers U10s: The story of Dave Kinsell losing his job at Hangleton Rangers hit the headlines in May 2009 when the youth coach was fired by the club committee for using money donated by UKIP politician Nigel Farage to buy a new kit.

The committee resented the political implications of the £150 donation from Farage, whose name was emblazoned across the front of the 16 new shirts, and sacked Kinsell for "contravening club policies".

3. Peter Cormack, Cowdenbeath: Cormack lost his job as Cowdenbeath manager in 2000 when he was summoned by chairman Gordon McDougall to a roadside hamburger stall and given the old heave-ho only ten days after taking the job in the first place.

Quite why McDougall chose a burger van as the perfect environs to deliver the news is beyond us, but Cormack - who perhaps thought his new boss was treating him to a spot of artery-clogging dinner - was sacked there and then, amid the heady aroma of flash-fried cow entrails by the side of a road near the Forth Bridge.

Cormack later claimed that McDougall offered him a substantial sum of money to walk away from the job without saying a word during their clandestine meeting, and that he refused to accept the deal.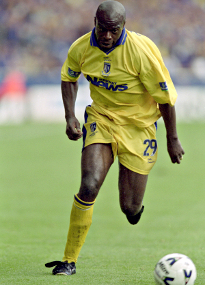 GettyImagesSome cows are on the pitch, they think it's all over. It is for Iffy Onuora
2. Iffy Onuora, Ethiopia: Former Huddersfield and Gillingham striker Iffy Onuora stepped into the murky world of international management in 2010 when he agreed to become the coach of Ethiopia on a one-year contract.

Sadly, he didn't even make it that far as Onuora was sacked ten months later for having the temerity to complain that he had to clear a herd of cows from the national side's training pitch before one particular session.

The Ethiopian tore up Onuora's contract on disciplinary grounds for bringing the national team into disrepute, with a spokesman claiming that he hadn't seen "a single pitch where you can find cows".

Well that's that then!

1. Jozo Gaspar, NK Precko Zagreb: A bona fide TP classic to end on. Formerly a star player for Dinamo Zagreb, Josip "Jozo" Gaspar was relieved of his managerial duties at NK Precko Zagreb earlier in the year for a momentary lapse in which he stole a player's credit card and used it to buy himself 36 litres of Jagermeister.

According to local news reports, it was alleged that Gaspar admitted to sneaking into the dressing room of FC Sparta Elektra (a team in Zagreb who share training facilities with NK Precko) and stealing a wallet belonging to one of their players.

He then drove into town and used a credit card from the wallet to purchase £450's worth of Jagermeister - that's 36 one-litre bottles of the stuff!

Unfortunately for Jozo, he was captured on security cameras as he paid for his bulk purchase and was then easily recognised by police as he attempted to buy more alcohol at a second store later in the day.

He was then arrested and fired from his post. What a day!

Well, there you go TP fans. If you've got any more weird and wonderful sackings you'd like to offer up then we'd be glad to hear all about them...