Video: Beckham visit in Shanghai starts stampede; 7 injured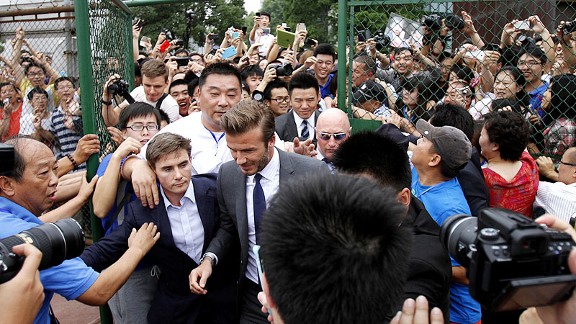 ChinaFotoPress/ChinaFotoPress via Getty ImagesDavid Beckham's Shanghai schedule was cut short when fans overwhelmed security, causing a stampede in which seven were injured.
Having finished donating all his PSG wages to hospitalised Parisian kiddiwinks, Saint David Beckham is back in "shiny corporate bauble" mode in China at the moment, gadding about from photo op to photo op and looking all handsome and the like while the Chinese Super League desperately attempt to draw attention away from all those pesky corruption allegations that continue to linger.

Day four of the Beckham Bonanza saw the CSL ambassador scheduled for a stop-off at Shanghai Tongji University where he was to meet and train with the university football team on Thursday. Sadly the whole thing had to be cancelled when a much-larger-than-expected crowd (Chinese state media estimated nearly 1,000 students) swarmed the stadium gate and breached the security cordon in a desperate attempt to catch a craning glimpse of Becks.

As the Guardian reports:

"Upon Beckham's arrival, fans stormed a gate and broke through police and guards. Photos and video footage show people pushed to the ground, shoes scattered and a uniformed woman being carried away, her face covered in blood.

"Too crazy," said Chu Dan, a Tongji University football player who was hoping to have "some interaction on the pitch" with the former England footballer. "But we didn't expect so many people showing up here -- too many fans of Beckham."



Three police officers, two university security guards and two students were apparently injured as the event was immediately cancelled by police in light of the chaos, with Beckham later apologising via his Weibo (the Chinese government-sanctioned version of Facebook) account.

"Sorry I couldn't get out on the pitch to see the teams. It was impossible to get through the massive crowds," he wrote, also wishing his injured fans "a speedy recovery".