'Yohan Kebab is magnificent' -- Joe Kinnear announces Newcastle return by mispronouncing everyone's name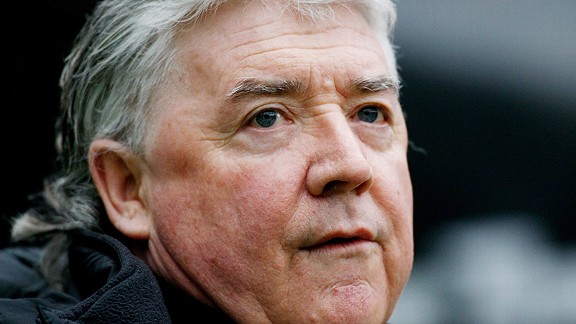 Stu Forster/Getty ImagesNo one can ever deny that Joe Kinnear did not sell Hans Segers at a profit.
Lord alone knows why, but Newcastle United have re-employed Joe Kinnear as the club's director of football, meaning that manager Alan Pardew and chief scout Graham Carr will now have to answer to a man who appears to live in a realm of fantasy somewhere between Narnia's eastern border and the Dream Zone from Potsworth and Co.

Safe to say Kinnear's second Newcastle appointment hasn't gone down well with the Toon Army (see the front page of today's Newcastle Chronicle for details) and the man did little to ingratiate himself with a prickly, defiant interview with TalkSPORT radio on Monday night -- in which, among a slew of erroneous boasts, Kinnear comically mispronounced the names of nigh on half of Newcastle's squad.

Harking back to his infamous "Charles Insomnia" tongue-slip in 2008, Kinnear rattled through a mind-boggling array of mispronunciations, taking in Derek Llambias (pronounced "Derek Llambeezi"), Hatem Ben Arfa ("Hatem Ben Afra"), Shola Ameobi ("Shola Amamobi'") and Newcastle's apparently now-Greek centre midfielder, "Yohan Kebab".

Fair enough, you could argue. Even Sir Bobby Robson flubbed the odd name, but once you factor in that Joe also referred to "Llambeezi" as being Newcastle's "director of football" (Llambias is managing director, always has been) and Shola Ameobi as "a young kid who's getting better and better" (the rangy striker is now 31-years-old) you begin to understand the problem here.

Among the cavalcade of guff spouted was Kinnear's bold claim that he bought Tim Krul to St Jame's Park during his brief tenure as manager in 2008-09. A cursory look at the records show that the Dutch 'keeper Krul was on Newcastle's books for a full two years before Kinnear turned up.

Harping on about his managerial record, Kinnear claimed he had "been named Manager of the Year three times" and "managed all over the world". In fact, he was LMA Manager of the Year once, back in 1994. As for the globetrotting CV, Kinnear managed for three months in India and just shy of a year in Nepal between 1984 and 1987. We're hardly in Sven-Goran Eriksson territory here.

The braggadocio continued: "[At Wimbledon] I bought Dean Holdsworth for 50 grand -- sold him for £3 million. I sold John Scales for £3 million--- he was a free transfer. I sold Robbie Earle for x, y, z."

"I sold Marcus Gayle, Leonhardsen, Micky Harford, John Hartson, Hans Segers, most of them were [bought in on] free transfers."

In reality, Holdsworth cost £650k. Scales actually cost £70k and was signed five full years before Kinnear joined Wimbledon. Robbie Earle outlasted him at The Dons and subsequently retired a year after Kinnear had left the club on health grounds.

As for "free transfers" Gayle, Leonhardsen, Harford and Hartson; none of them were freebies. In fact, Hartson cost £7.5million, the club's most expensive signing ever. That said, we'll give him Hans Segers.

The bullhonky goes on and on and, indeed, on.

The full 15-minute interview is available to listen to here, though if you wish to merely guffaw at the comedy mispronunciations then skip through to the 8:05 mark...