Zlatan being Zlatan: Calls Faroe Islands national team "bunch of fishermen" then throws ball in GK's face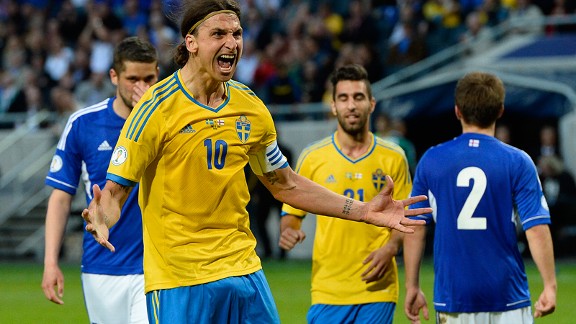 GettyImagesZlatan Ibrahimovic had plenty to say against the Faroe Islands
As well as scoring both goals in Sweden's 2-0 victory, Zlatan Ibrahimovic had a busy old night against the Faroe Islands, with several Faroes players complaining about just how much trash-talking and gamesmanship the tyrannical PSG striker got through.

After the game, it was revealed that Ibrahimovic spent a large swathe of the evening repeatedly referring to his opponents as "a bunch of fisherman" and boasting about how much money he earns, with utterly baffled Faroes striker Simun Samuelsen rebutting post-match: "Yes, we fish. It's part of our culture. So what?"

Quite. "So what?" indeed. Samuelsen also questioned just why Ibrahimovic felt the need to spend the entire game constantly belittling the Faroes players, with the HB Torshavn forward telling Marca:

"Zlatan is such a good player, we don't understand why he is in such a bad mood. We play hard and honest, but we do not try to humiliate anybody like this.

"We are a small country and it is strange that he wants to put us down even more. Ibra tells us we are fishermen and yes we are, it is a part of our culture.

"I can't understand why he behaves like that to us. We finish work at four and then go training in the evening."

The tiff continued as Zlatan himself told Swedish reporters that the Faroe Islands players were all "cry babies" and that he'd never come up against a team that "moaned so much". We can't for the life of us think why their noses may have been put out of joint.

Maybe it was something to do with Ibra accidentally/absolutely not accidentally throwing the ball directly into Faroes keeper Gunnar Nielsen's face right underneath the referee's nose...



Speaking to Swedish broadcasters in an interview after the game, Zlatan called his little move a "no-look pass" with a wry smile across his face. Here's the translated transcript...

Male reporter: Do you think it was a yellow [card offence]?
Zlatan: No.
Male reporter: It should be a yellow.
Zlatan: Absolutely not. The goalie talked some ***t, so of course I'm throwing the ball at him.

Female reporter: Did you aim for him?
Zlatan: No, I wasn't even looking, as you can see... *smirk*

Oh Zlatan, don't ever change.