Eight rumoured Premier League transfers that simply won't happen
Call us overly cynical but it almost seems that, with a dearth of actual football to report on, the hacks and gossip-mongers of the footballing press turn to the good ol' fashioned "blockbuster transfer rumour" to fill their columns over the summer months.

Having scanned the various bumph and baloney that has been polluting the press for the past few weeks, we thought we'd take the opportunity to denounce an octuplet of some of the biggest porkies that are circulating at the moment which won't make it past the "tomorrow's chip paper" stage...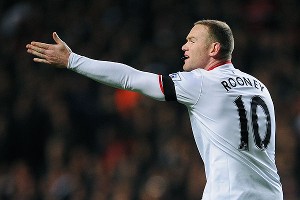 Michael Regan/Getty ImagesWayne Rooney may be unhappy, but he isn't crossing the English Channel to join Paris Saint-Germain.
1. Wayne Rooney to PSG: No, nay, never - and he isn't going to Arsenal either. People have taken Rooney's inclusion in United's new kit launch promos as proof positive that he'll be at Old Trafford next season, but these things are prepared months in advance. It means nada, nowt, the square root of diddly bobbins. However, call it female intuition but despite his recent wobble, the Roondog ain't goin' nowhere between now and the end of August.

2. Stephan El Shaarawy to Manchester City: Apparently City have offer 25 million euros plus - plus! - Carlos Tevez for the sea urchin-haired AC Milan forward. Even for a club perfectly happy to spaff away 34 milion quid on Fernandinho, surely chucking away another vast fortune and one of their very best players in one fell swoop (valuing the deal somewhere around 40m Euros) in return for a striker who scored a grand total of two goals after Mario Balotelli joined the Rossoneri in January seems a bit a rash? No? Just us?

3. Gonzalo Higuain to Arsenal: Chief executive Ivan Gazidisan blabbed last week that Arsenal are in a position to splurge on "£20million-plus players on £200,000-a-week wages." Yet still the Gunners, thanks to a succession of fallow years, are going to have it all on to prevent Higuain opting for the lustre of Serie A champions Juventus. As far as Wenger is concerned, David Villa at a knock-down £11m seems much more viable.

4. Leandro Damiao to Tottenham: Pfffft. Frankly, with the last eight straight transfer windows being crammed to the gills with reports of these two star-crossed lovers supposedly making dusky bedroom eyes at each other with absolutely zilcho happening in terms of a first move from either party, we'll now only believe it when we see Damiao holding the shirt aloft at White Hart Lane.

5. Cesc Fabregas to Arsenal:The player himself has stated that he has no intention of leaving Barcelona this summer, yet the English press continue to link Fabregas to a move back to Inglaterra with either Manchester United (as David Moyes' first "statement of intent") or Arsenal. Here's what Cesc had to say when asked directly about the rumblings: "There is nothing to say. I'm very happy at Barca and I want to stay for many more years to come." Doesn't get much more emphatic than that.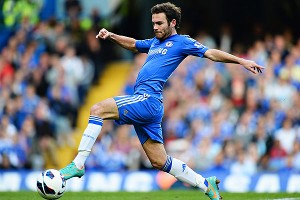 Mike Hewitt/Getty ImagesIt's hard to imagine Juan Mata bolting Stamford Bridge.
6. Juan Mata to anywhere else: According to both the Sunday Times and Marca, returning Chelsea manager Jose Mourinho is keen to preen and posture and stamp his authority on his newly-inherited squad by getting rid of the club's Player of the Year for the past two seasons straight. If this is true -- which it is most assuredly isn't -- then Jose needs psychiatric help, stat!

7. Joleon Lescott to Barcelona: Yep, this is a genuine rumour (if that isn't an oxymoron?) being peddled by Marca at the moment. The yarn goes thus: having finally realised that their back-line is a little on the "shonky short-arse" side, Barca are pursuing the City centre-half after giving up on Thiago Silva, Mats Hummels, Vincent Kompany and David Luiz. Riiiiiiiiiiight.

8. Cristiano Ronaldo to Manchester United: The formula is quite simple: as long as the papers keep putting the words "Ronaldo" and "United" in the same headline they're going to shift units and reap those all important HITZ. It's weapon's grade bullhonky is what it is.

Indeed, Real president Florentino Perez this very week said, "My aim, Cristiano's aim, and the aim of all Real Madrid fans is that he carries on playing here for many years to come." Simply put, he's one of the two best players in the world, playing at the peak of his powers and already employed by one of the two most illustrious football clubs on the planet. Why would he go anywhere at this point in his career?