Vincent Kompany plays 60 mins against Serbia with broken nose, mild concussion and fractured eye socket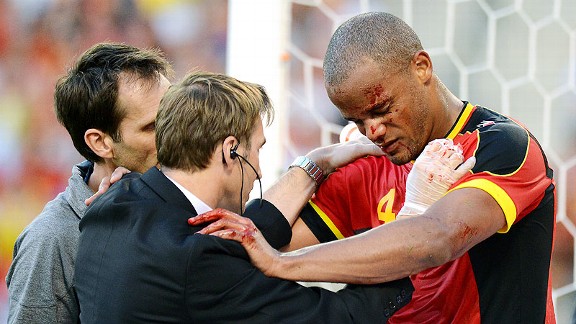 AP Photo/Geert Vanden WijngaertJust another day at the office for hardman Vincent Kompany.
You don't need us to tell you that Vincent Kompany is made of stern stuff, but his hard-as-nails display against Serbia yesterday is fair proof that the Belgium captain is obviously hewn from whatever that stuff is that Wolverine's skeleton is made of.

Kompany took an unwitting slug across the face from Serbia 'keeper Vladimir Stojkovic after about 30 minutes of Belgium's 2-1 victory in World Cup Qualifying Group A but, after a few groggy minutes spent being mopped up on the sideline, the Manchester City centre-half was back on the pitch -- playing out the last hour of the game without any discernible discomfort.

Afterwards Kompany was taken to the Saint Martin's Hospital in Mechelen for a routine check-up on his injuries where doctors found that he had played for 60 minutes with a broken nose (a "displaced nasal fracture" to use the precise medical terminology), a mild concussion and a superior orbital fissure, i.e, a crack in his eye socket.

Upon returning to the team hotel, Kompany posted an "after" shot on Twitter to show the extent of the damage, along with the message, "What wouldn't you do for your country, hey?"

Doesn't that just bring on a nice, warm feeling down in your belly waters? The football hardman does still exist.