Mario Gotze sues Dortmund rap collective over their anti-Gotze song 'Have You Got What You Want Now?'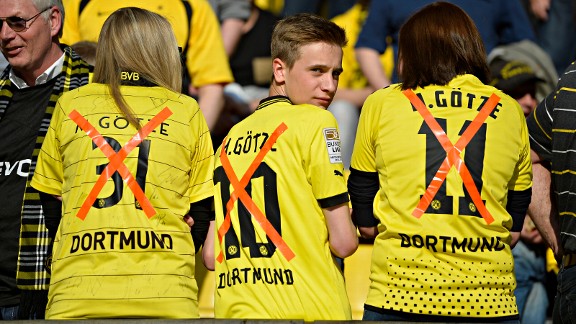 GettyImagesMario isn't exactly Mr Popular in Dortmund at the moment
According to stories wafting over from Germany, Mario Gotze's legal representatives are currently in the process of suing three Dortmund-based rappers, known collectively as "Kopfnussmusik", who have released a song about Gotze's recent turncoat transfer between BVB and rivals Bayern Munich.

Gotze is reportedly seeking €70,000 from rap trio M.I.K.I., Akkord One and Reece over their track "Hast Du Jetzt Was Du Willst?"/"Have You Got What You Want Now?" (that's TP's translation, so it may not be 100 percent accurate) which contains multiple aggressive references to Gotze and his "money-grabbing" decision to join Bayern last month.

The anti-Gotze anthem contains lyrics along the lines of "you're a Judas", "you dirty rat" and "we can't wait for the day when Grosskreutz fouls you" - and those are about the only lines that are fit to print.

Anyway, Kopfnussmusik's defence is that they are merely echoing the sentiments of BVB fans and voicing the kind of anti-Gotze insults that thousands of supporters have been using on social media.

The band issued the following statement: "We wanted to express the emotions and disbelief about the upcoming change of the club and we didn't expect such consequences."

BVB fans are already rallying around the group and donating money towards their cause, clubbing together in an attempt to raise the €70,000 that Gotze's lawyers are allegedly chasing.

"The people are donating like crazy, that's solidarity! Even if it's hard, we're able to cut it together!" said M.I.K.I. "Fight or give up? We'll fight!"

Just think, if John Terry had thought about this kind of legal action a little earlier in his career he'd be a multi-millionaire by n...oh, hang on a minute.