Video: Wayne Rooney appears in truly terrible 'Skyfall' James Bond spoof trailer
Made using shards of Wayne Rooney's electrifyingly epic turn as Wayne Rooney in Manchester United's corporate-tastic, cheese-laden advert for Chilean wine hawkers Casillero del Diablo last year (cheese and wine: the perfect combination!), Huffington Post have produced a stirring/thoroughly naff trailer for upcoming blockbuster 'Awful' - a spoof of James Bond's latest bells-and-whistles offering, Skyfall, and a jab at Rooney's patchy scalp form...



Terrible. Rooney's performance doesn't get any better, even when cast alongside Patrice 'General(ly) Orlov(ertheplace)' Evra and Ryan [*moniker snipped for libel reasons*]' Giggs.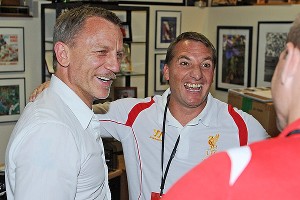 Andrew Powell/Liverpool FC/Getty Images
What would James Bond himself, Daniel Craig -- a massive Liverpool fan by trade -- think of that mess? Well, it looks like he and Brendan had a good old laugh about it...

(Video: Huff Po UK)