Video: Mertesacker showboats all over Drogba in Ballack testimonial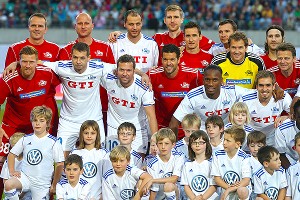 Alexander Hassenstein/Bongarts/Getty ImagesMichael Ballack invited a few well-known friends to help see him off into retirement Wednesday.
'Twas Michael Ballack's testimonial Wednesday night, which saw a Jogi Loew-coached "Friends of Ballack XI" take on the Jose Mourinho-coached "World XI" at the Red Bull Arena in Leipzig, with the likes of Michael Schumacher, Andriy Shevchenko, Miroslav Klose, Lothar Matthaus and Didier Drogba (among many, many others) turning out to wave off the former Germany captain.

Playing a half for each side, Ballack scored thrice in a 4-3 victory for the World XI, though the undoubted highlight of the night was provided by an unlikely source.

Despite usually appearing to have all the grace, agility and turning circle of an Ent from The Lord of the Rings, Per Mertesacker stopped Drogba in his tracks by nimbly roulette-ing his way past the Galatasaray striker in his own penalty area...



What a fancy pants! Someone just learned how to double-tap L2!