Matthaus promises to come out of retirement if he gets one million 'Likes' on Facebook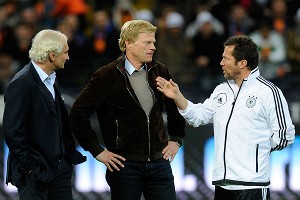 Thorsten Wagner/Bongarts/Getty Images"Guys, I'm getting the band back together!" -- One wonders if Lothar Matthaus, right, got old pals Rudi Voeller, left, and Oliver Kahn to help his Facebook effort.
It would seem that Lothar Matthaus is in the midst of a mid-life crisis. But rather than going down the normal time-honoured route -- quit your job, dye your hair, buy a Harley and a leather jacket one size too small, divorce the wife and shack up with one of your 26-year-old daughter's friends -- the former Germany international has vowed to dust off his boots and come out of retirement if he gets one million 'likes' on his Facebook page.

Matthaus, 52, bowed out almost 13 years ago after a season spent winding down in the MLS. But the former Bayern Munich midfielder has decided that after being out of the game for almost two years since being sacked as the Bulgaria coach in 2011 now is the time to stage his comeback.

As of Monday, Matthaus has 75,600 likes, thus leaving him way short of his total, but there's still time.

Quite why he's chosen to reverse his retirement is no doubt a complex physiological issue, but just which club he thinks is going to sign a 52-year-old man who hasn't played competitively in well over a decade is another matter entirely -- though that said, second-tier Bundesliga side FC Koln are being heavily linked in the German tabloids.

Has the world gone mad or are we all just part of a massive joke we don't quite "get"?