Zlatan shakes hands with 16 y/o Alen Halilovic - Dinamo Zagreb urchin who was born during Euro '96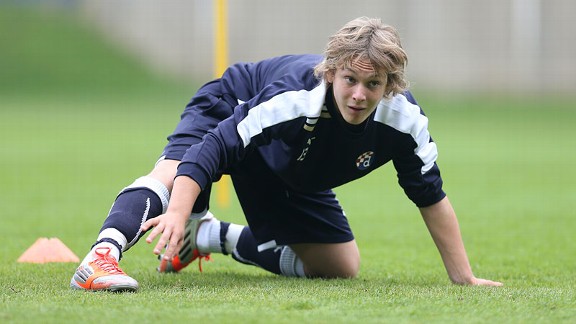 PA PhotosSixteen-year-old midfielder Alen 'The New Modric' Halilovic
This image of the fresh faced boy above is not, as it may well appear, Zlatan making an impromptu visit to a local Parisien orphanage or even making his way down the line-up of mascots - sorry, 'player escorts' - before PSG's Champions League group tie against Dinamo Zagreb.

Oh no, that is Zlatan shaking hands with 16-year-old midfielder Alen 'The New Modric' Halilovic (they share a hair stylist), who played in his first ever Champions League game for the Croatian side last night.

Remember the Nintendo 64 going on sale, the first episode of 'Third Rock from The Sun', the Cleveland Browns renaming themselves the Baltimore Ravens, the Tommy Lee/Pamela Anderson sex tape being leaked (apologies for the use of the word 'leaked' there) or the very first kick of Euro '96? Alen Halilovic doesn't, because HE WASN'T BORN.

Now that's just depressing.