Club America keeper scores 93rd minute diving header to help secure Liga MX title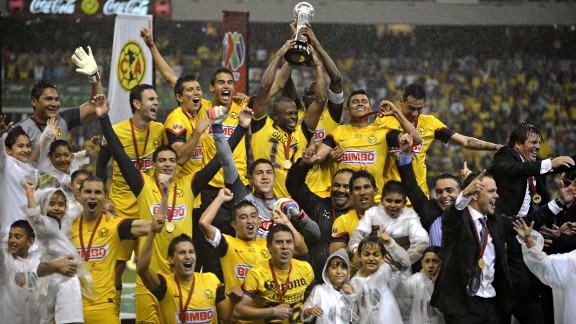 GettyImagesPlayers of Club America hold the Mexican Clausura Tournament trophy
Club America won their 11th Mexican league title when they overturned a 1-0 deficit from the first leg of their Liga MX Clausura final against Cruz Azul to eventually win the tie outright on penalties on Sunday evening - though that only tells half the story.

Trailing 1-0 from the first-leg, Club America's hopes of clawing their way back into the Clausura final were severely dented when they found themselves both a man down and a further goal down against Cruz Azul within 20 minutes of the second leg.

Indeed, the aggregate score was still 2-0 to Cruz Azul when the clock ticked over into the final minute of the match. Then the unthinkable happened.

Firstly, Club America pulled a consolation goal back through Aquivaldo Mosquera, who headed in a 89th-minute corner to give his side the faintest flicker of hope. Then, a full four minutes later, Club America threw everyone forward when yet another late corner provided the perfect opportunity for one last cavalry charge.

They needed a hero, and that man was goalkeeper Moises Muñoz, who stretched every fibre of his being to get his head on the looping cross and somehow steer (via a deflection) the ball past his opposite number and into the Cruz Azul net with the last touch of normal time...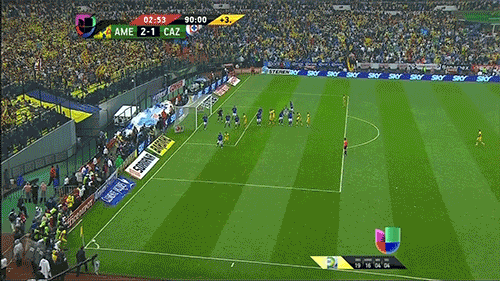 Club America goalkeeper
Having levelled the aggregate score at 2-2 (away goals don't count), a goalless 30 minutes of extra time then passed by before the final went to penalties, with Club America eventually winning the shootout 4-2 and thus securing their 11th Liga MX title in the process.

It's fair to say that their coach, Miguel Herrera, was fairly pleased with the outcome...



(GIF via 101GG)